#privatetours #tourdestinations #capetowntours #bestprivatetours #touristdestinations #tourscapetown #touristattractions #besttours #capepeninsula #tablemountain #robbenisland #winetours #capepoint #citytours #privatedaytours
Cape Town is a city full of wonders, from its breathtaking landscapes to its rich history and vibrant culture. Exploring this incredible destination is made even more memorable with a private tour guide.
Whether you're a first-time visitor or a seasoned traveler, there are plenty of captivating destinations to discover. In this blog post, we will explore the best Cape Town private tour destinations, based on factual data, that are sure to leave you mesmerized.
So, fasten your seatbelts and get ready for an unforgettable adventure in the Mother City.
1. Table Mountain
Overview of Table Mountain
Table Mountain is one of the most iconic landmarks in Cape Town, South Africa. It is a flat-topped mountain that offers breathtaking panoramic views of the city, surrounding coastline, and Table Bay. The mountain is a popular tourist destination and a must-visit attraction for anyone traveling to Cape Town.
Hiking and Cable Car options
There are two main ways to reach the summit of Table Mountain: hiking or taking the cable car. Hiking up the mountain is a rewarding and adventurous experience, with several trails of varying difficulty levels to choose from. The most popular route is the Platteklip Gorge Trail, which offers stunning views along the way. For those who prefer a more relaxing journey, the Table Mountain Aerial Cableway provides a scenic ride to the top.
Stunning views and photo opportunities
Once you reach the top of Table Mountain, you will be rewarded with breathtaking views of Cape Town and its surroundings. The panoramic views stretch across the city, the Atlantic Ocean, and the Twelve Apostles mountain range. There are also several designated viewpoints and platforms where you can capture stunning photos of the landscape and the city below.
Table Mountain is truly a must-visit destination in Cape Town, offering incredible views, hiking opportunities, and unforgettable experiences.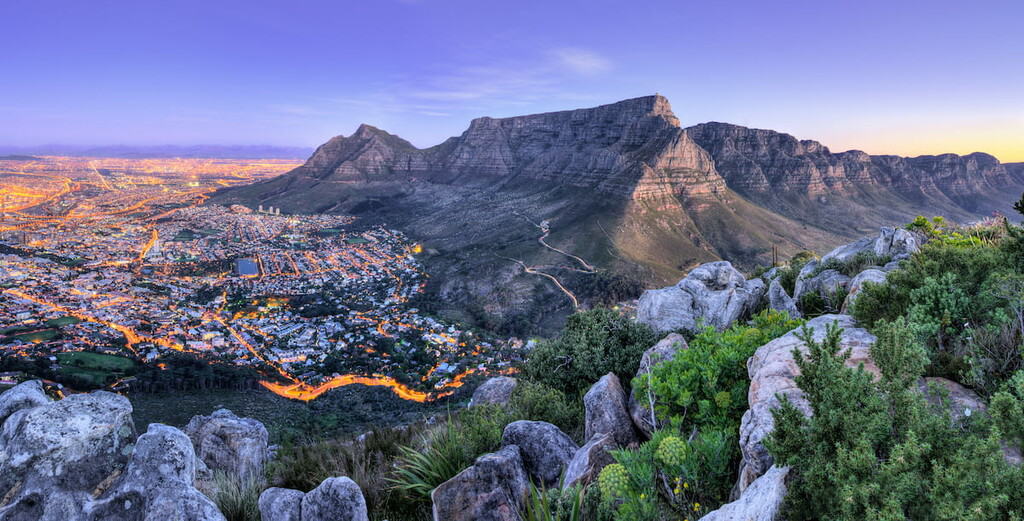 2. Cape Point
Exploring Cape Point Nature Reserve
Cape Point, located at the southwestern tip of the Cape Peninsula, is a must-visit destination in Cape Town.
Here's what you can expect when exploring Cape Point Nature Reserve:
Cape Point Lighthouse: Take a hike or a funicular ride up to the iconic Cape Point lighthouse, which offers panoramic views of the rugged coastline and the meeting point of the Atlantic and Indian Oceans.
Flora and Fauna: The nature reserve is home to a diverse range of plants and animals, including various species of fynbos, baboons, dassies, and over 250 species of birds. Keep an eye out for the endemic Cape sugarbird and the endangered African penguin.
Visiting the Cape of Good Hope
The Cape of Good Hope is situated within the Cape Point Nature Reserve and is an important historical and geographical landmark. Here's what you can do when visiting the Cape of Good Hope:
Hiking Trails: Explore the various hiking trails that lead to the Cape of Good Hope, offering breathtaking views of the coastline and the chance to spot wildlife along the way.
Photography Opportunities: The Cape of Good Hope is known for its stunning natural beauty, so be sure to bring your camera and capture the dramatic landscapes and panoramic vistas.
Scenic Drives and Coastal Scenery
The drive to Cape Point offers spectacular coastal scenery that should not be missed.
Here are some highlights of the scenic drives in the area:
Chapman's Peak Drive: This world-renowned scenic route winds along the cliffs of the coastline, offering jaw-dropping views of the ocean and the surrounding mountains. It is particularly famous for its picturesque sunsets.
Boulders Beach: Located near Simon's Town, Boulders Beach is home to a colony of cute African penguins. Take a stroll along the boardwalks and observe these adorable creatures in their natural habitat.
Cape Point is a destination that combines natural beauty, historical significance, and stunning panoramic views.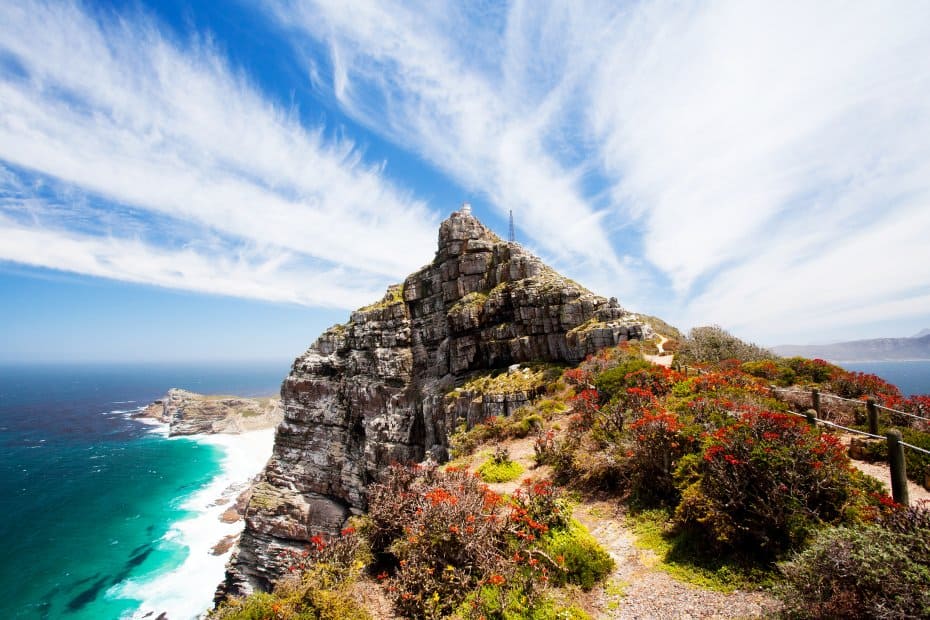 3. Robben Island
Historical significance of Robben Island
Robben Island holds immense historical significance and is a must-visit destination in Cape Town. This small island, located roughly 7 kilometers off the coast, served as a prison during South Africa's apartheid era. It was here that political prisoners, including Nelson Mandela, were held captive for many years. Robben Island is now a UNESCO World Heritage Site and has become a symbol of the struggle for freedom and democracy in South Africa.
Nelson Mandela's imprisonment
Perhaps the most well-known prisoner on Robben Island was Nelson Mandela, who spent 18 of his 27 years of incarceration there. Mandela's time on the island became a powerful symbol of the fight against apartheid and the resilience of the human spirit.
Guided tours and museum exhibits
Today, visitors can take guided tours of Robben Island to learn about its history and the experiences of those who were imprisoned there. Former political prisoners who provide firsthand accounts of island life lead the tours. Visitors can explore the prison facilities, including Nelson Mandela's former cell, and gain insight into the harsh conditions endured by the inmates.
The island also houses a museum that showcases the history of the struggle against apartheid and the impact of Robben Island on South Africa's political landscape. The exhibits include photographs, artifacts, and personal stories that provide a profound understanding of the historical context.
Visiting Robben Island is a moving and educational experience that offers a glimpse into South Africa's past. It is a reminder of the triumph of the human spirit and the power of individuals to effect change.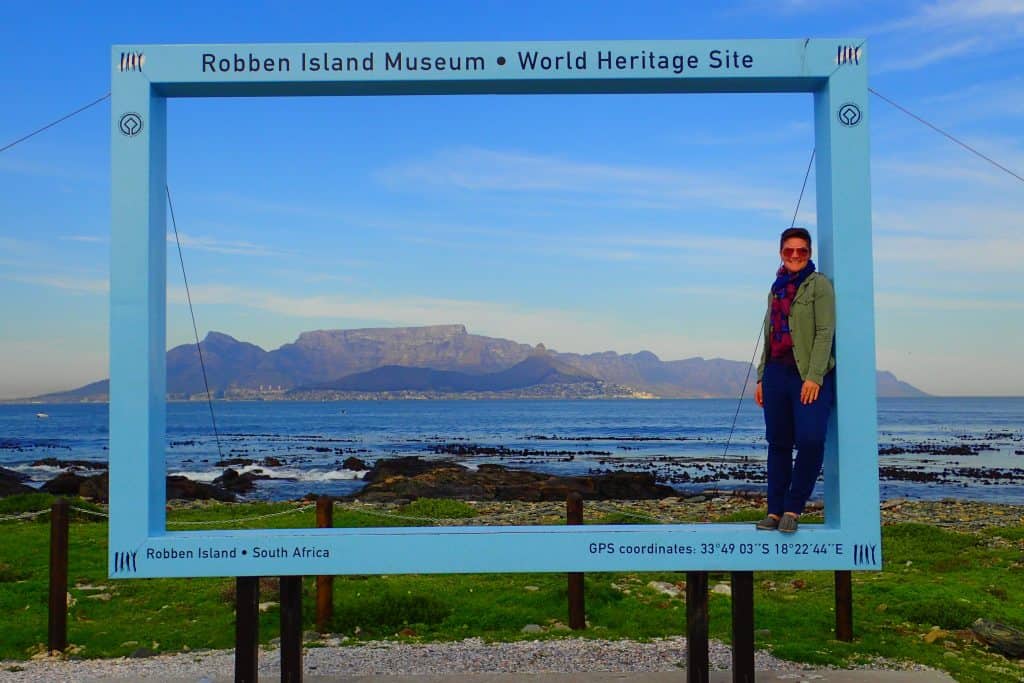 4. Kirstenbosch National Botanical Garden
Kirstenbosch National Botanical Garden is a must-visit destination for nature lovers and gardening enthusiasts. Located at the eastern foot of Table Mountain in Cape Town, South Africa, this botanical garden offers a tranquil escape from the city's hustle and bustle.
Highlights of Kirstenbosch Garden:
Breathtaking Scenery: The garden is set against the backdrop of Table Mountain and offers stunning views of the surrounding mountains and valleys. It's a perfect spot for a leisurely walk or a picnic surrounded by natural beauty.
Canopy Walkway: Kirstenbosch is home to a unique canopy walkway called the Boomslang. This elevated walkway takes you through the treetops, providing a different perspective of the garden and the surrounding landscape.
Fynbos and Indigenous Plants: The garden showcases a wide variety of fynbos, the endemic vegetation of the Western Cape. Visitors can explore the diverse flora, including proteas, ericas, and restios, while learning about the importance of conserving these indigenous plants.
Indigenous flora and fauna
Kirstenbosch National Botanical Garden is known for preserving and showcasing the rich biodiversity of South Africa.
Here, you can discover:
Over 7,000 Species: The garden is home to over 7,000 species of plants, including rare and endangered species. It is a paradise for plant enthusiasts and an important site for conservation efforts.
Summer Concerts: Kirstenbosch is well-known for hosting well-attended summer concerts where guests can listen to live music in a picturesque outdoor amphitheater. It's a fantastic way to experience the beauty of nature while listening to great music.
Picnics and Outdoor Activities: The garden offers several picnic spots, allowing visitors to relax and enjoy their surroundings. There are also walking and hiking trails that take you through the different sections of the garden, providing an opportunity to explore at your own pace.
With its stunning scenery, diverse flora, and range of activities, Kirstenbosch National Botanical Garden is a true gem in Cape Town. It's a perfect destination for a peaceful and enriching private tour experience.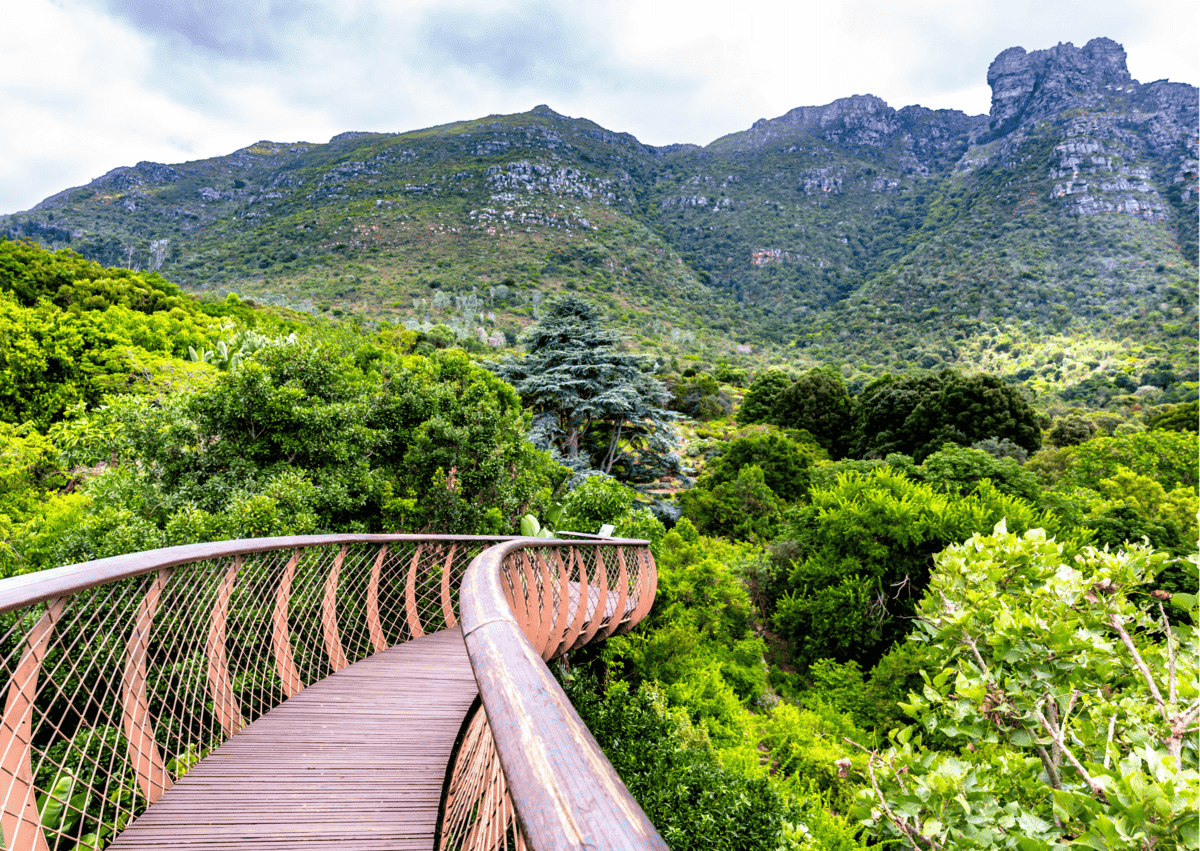 5. Boulders Beach
Home to African Penguins
Located just outside of Cape Town, Boulders Beach is a popular destination for wildlife enthusiasts. It is home to a colony of African penguins, also known as jackass penguins due to their donkey-like braying sounds.
These adorable creatures are a delight to watch as they waddle along the beach and swim in the turquoise waters. Visitors can get up close and personal with the penguins and even take a swim with them in designated areas. Boulders Beach offers a unique and unforgettable wildlife experience that is sure to leave a lasting impression.
Unique wildlife experience
The African penguins at Boulders Beach are classified as an endangered species, and their presence in Cape Town is a testament to the conservation efforts in the area.
Visitors to Boulders Beach not only get to see these fascinating creatures in their natural habitat but also learn about the ongoing conservation efforts to protect them.
Boulders Beach offers a unique opportunity to connect with nature and appreciate the beauty of these remarkable animals. It is a must-visit destination for anyone looking to experience the rich wildlife and natural wonders of Cape Town.
6. Constantia Wine Route
In Cape Town, wine enthusiasts can explore the Constantia Wine Route, which is known for its picturesque vineyards and world-class wines. The Constantia Valley is the oldest wine-producing region in South Africa, dating back to the 17th century. Here, visitors can enjoy a variety of wine tasting experiences and discover the rich history of winemaking in the region.
Wine tasting in Constantia Valley
The Constantia Wine Route is home to several award-winning wineries and estates, each offering unique wine-tasting experiences.
Here are some of the top wineries to visit in the Constantia Valley:
1. Groot Constantia: This historic estate is known for its beautiful Cape Dutch architecture and produces a wide range of wines, including Sauvignon Blanc, Chardonnay, and Bordeaux-style blends. Visitors can explore the vineyards, cellar, and museum and enjoy wine tastings in a picturesque setting.
2. Klein Constantia: Situated on the Constantiaberg mountains' slopes, Klein Constantia is well-known for its dessert wine, Vin de Constance, which Jane Austen and Napoleon Bonaparte both drank. The estate also produces other varietals, such as Sauvignon Blanc and Cabernet Sauvignon.
3. Steenberg Vineyards: Steenberg Vineyards is known for its premium wines and picturesque setting. Visitors can enjoy wine tastings, cellar tours, and even a round of golf at the Steenberg Golf Estate. The estate offers a variety of wines, including Sauvignon Blanc, Chardonnay, and Merlot.
4. Buitenverwachting: This estate, whose name means "beyond expectation" in Afrikaans, lives up to its name with its beautiful gardens and exceptional wines. Visitors can taste a range of wines, from Sauvignon Blanc to Cabernet Sauvignon, and enjoy a meal at the on-site restaurant.
5. Constantia Glen: Nestled between the Constantiaberg mountains, Constantia Glen offers panoramic views of the valley and produces limited quantities of Bordeaux-style wines. The estate's tasting room provides a cozy and intimate setting to sample their wines.
These are just a few of the wineries that make up the Constantia Wine Route. Whether you're a wine connoisseur or simply enjoy a glass of wine, a visit to the Constantia Valley is a must for anyone looking to tour Cape Town.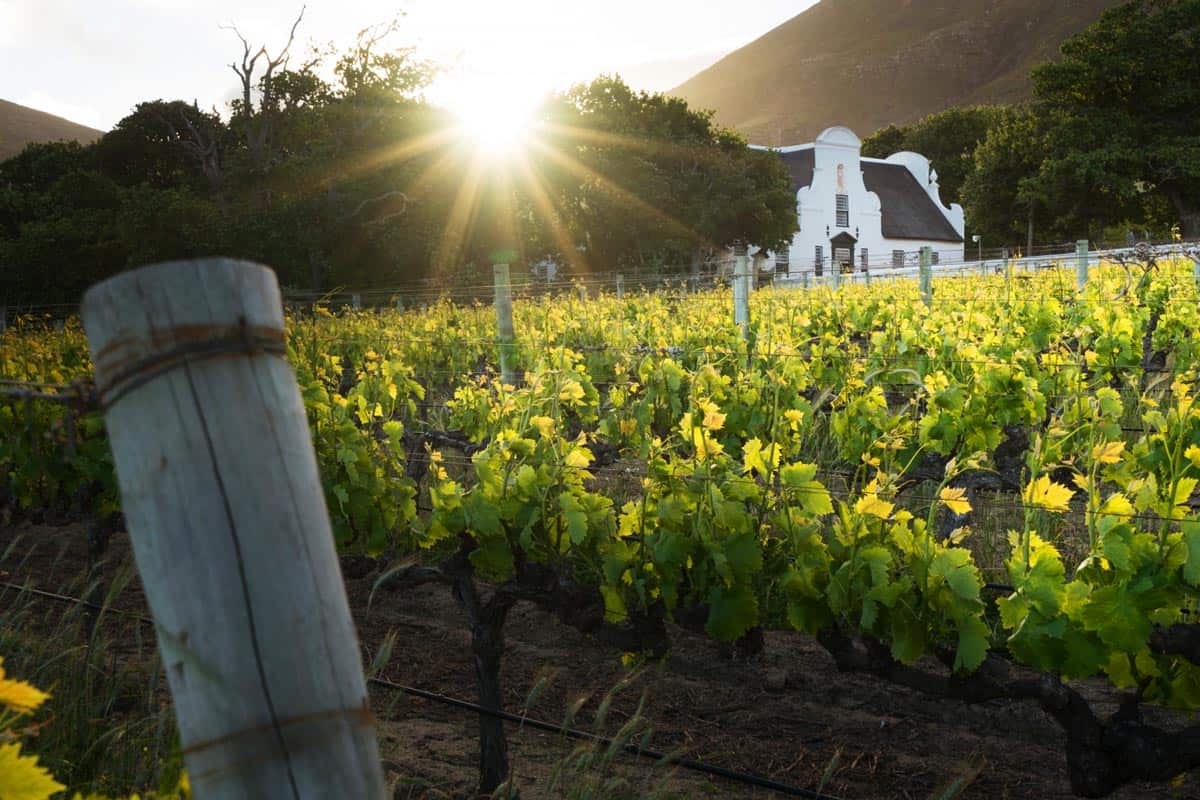 7. Victoria and Alfred Waterfront
The Victoria and Alfred Waterfront is a vibrant shopping and dining destination that offers a unique blend of history, culture, and entertainment. Located in Cape Town, South Africa, this waterfront complex has become a popular tourist destination for both locals and visitors alike.
Vibrant shopping and dining destination
The Victoria and Alfred Waterfront is renowned for its diverse range of shopping and dining experiences.
Here are some highlights:
1. Shopping: With over 450 retail outlets, including international brands and local artisans, the Victoria & Alfred Waterfront is a shopper's paradise. From high-end fashion boutiques to African art and crafts, you'll find everything you need and more. Don't forget to visit the Watershed, a unique space dedicated to local designers and craftsmen.
2. Food and Drinks: The waterfront boasts an array of restaurants, cafes, and bars that cater to all tastes and budgets. Whether you're craving fresh seafood, international cuisine, or local delicacies, you'll find a restaurant to suit your palate. Enjoy a leisurely meal with stunning views of the harbor, or grab a quick bite at one of the food markets.
3. Entertainment: The Victoria and Alfred Waterfront is not just about shopping and dining. It also offers a range of entertainment options for all ages. Catch a movie at the cinema complex, visit the Two Oceans Aquarium to discover marine life, or enjoy live performances at the amphitheater. There's always something happening at the waterfront.
4. Historical Sites: The Victoria and Alfred Waterfront is steeped in history, with several notable landmarks to explore. Visit the Clock Tower, a symbol of the Cape Town harbor, or take a tour of the Zeitz Museum of Contemporary Art Africa, housed in a historic grain silo. Don't miss the opportunity to learn about Cape Town's rich maritime history at the Chavonnes Battery Museum.
5. Harbor Views: Lastly, the Victoria & Alfred Waterfront offers breathtaking views of Table Mountain and the Cape Town harbor. Take a leisurely stroll along the waterfront promenade or hop on one of the harbor cruises for a different perspective of the city. The views alone make the visit worthwhile.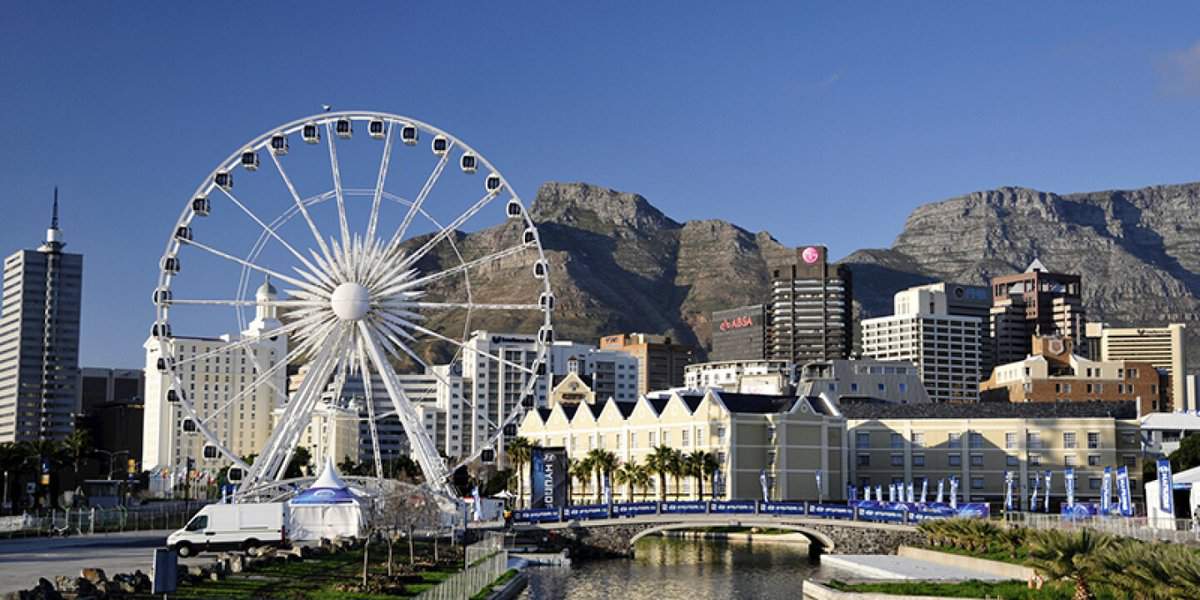 8. Cape Winelands
Cape Town is not only known for its stunning landscapes and vibrant city life but also for its world-renowned wine regions. The Cape Winelands, including Stellenbosch and Franschhoek, are must-visit destinations for wine enthusiasts and those looking to experience the beauty of South African vineyards.
Exploring Stellenbosch and Franschhoek
Stellenbosch: Stellenbosch is South Africa's second-oldest town and an excellent destination for wine lovers. With more than 150 wine farms, including some of the country's most famous estates, Stellenbosch offers a diverse range of wines to taste and explore. Take a stroll through the historic town center, where you'll find Cape Dutch architecture and charming cafés. Don't miss the opportunity to visit the Stellenbosch Wine Route, which offers cellar tours and wine tasting experiences.
Franschhoek: Franschhoek is a beautiful town in the mountains of South Africa that is known as the food and wine capital of the country. The town's French heritage is reflected in its wine and culinary offerings. Take a scenic wine tram tour through the vineyards or indulge in a gourmet meal at one of the many award-winning restaurants. Franschhoek is also home to several world-class wine estates where you can sample a variety of wines and enjoy the breathtaking views of the valley.
Both Stellenbosch and Franschhoek are easily accessible from Cape Town, making them perfect destinations for a day trip or a weekend getaway. Whether you're a wine connoisseur or simply appreciate the beauty of wine country, exploring the Cape Winelands will be an unforgettable experience.
Raise Your Glass to an Unforgettable Adventure! Join Us on a Private Cape Winelands Tour and Savor the Finest Wines, Stunning Views, and Memorable Moments. Let's Toast to Your Perfect Day—Book Now!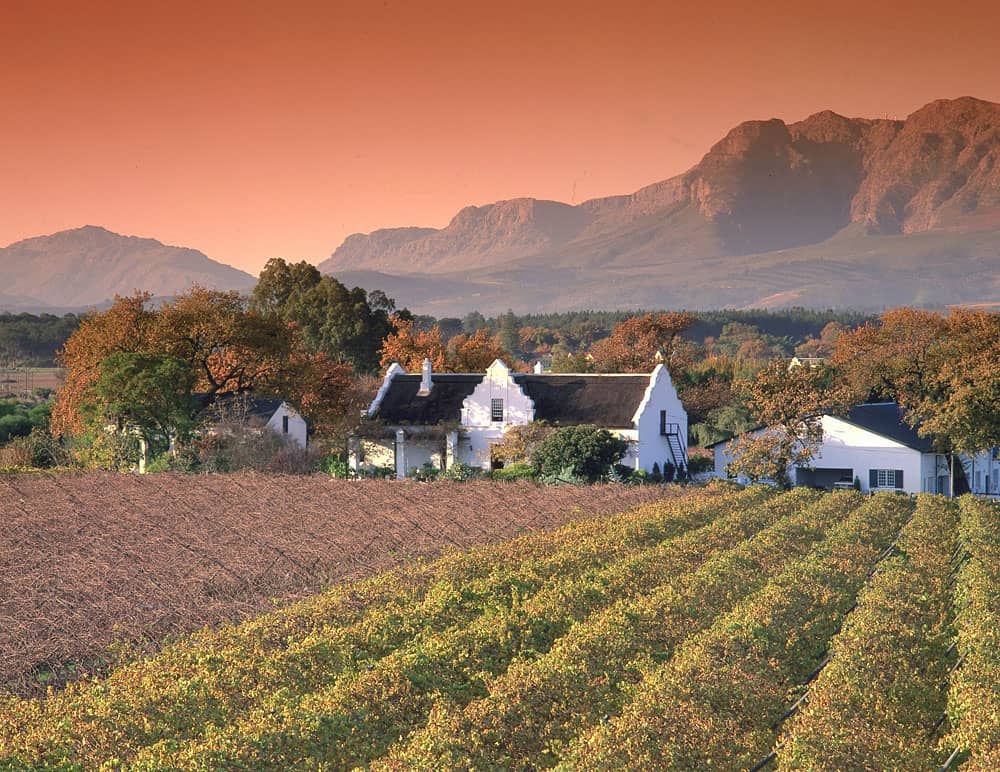 9. Chapman's Peak Drive
Scenic coastal drive along Chapman's Peak
If you're looking for a stunning coastal drive near Cape Town, Chapman's Peak Drive is a must-visit destination. This iconic route stretches along the coastline between Hout Bay and Noordhoek, offering breathtaking views of the Atlantic Ocean and the rugged mountains.
Here are some key highlights of Chapman's Peak Drive:
1. Panoramic Views: The drive offers panoramic views of the ocean, with towering cliffs on one side and pristine beaches on the other. It's the perfect opportunity to capture some Instagram-worthy photos.
2. Engineering Marvel: Chapman's Peak Drive is not only known for its beauty but also for its engineering marvels. The route winds its way along the mountainous coastline, with numerous curves and tunnels that blend seamlessly into the natural landscape.
3. Wildlife Spotting: Keep an eye out for wildlife during your drive. You may spot whales, dolphins, and even baboons along the coastline. It's a unique opportunity to witness the region's diverse wildlife in their natural habitat.
4. Picnic Spots: There are several picnic spots along the route where you can stop and enjoy a leisurely meal while taking in the breathtaking views. Pack a picnic basket and make the most of this picturesque setting.
5. Hiking Trails: For those who want to explore the area on foot, there are several hiking trails that start from Chapman's Peak Drive. These trails take you through the fynbos-covered mountains and offer even more stunning views of the coastline.
If you're planning a visit to Cape Town, be sure to include Chapman's Peak Drive in your itinerary. It's a scenic and memorable experience that showcases the region's natural beauty.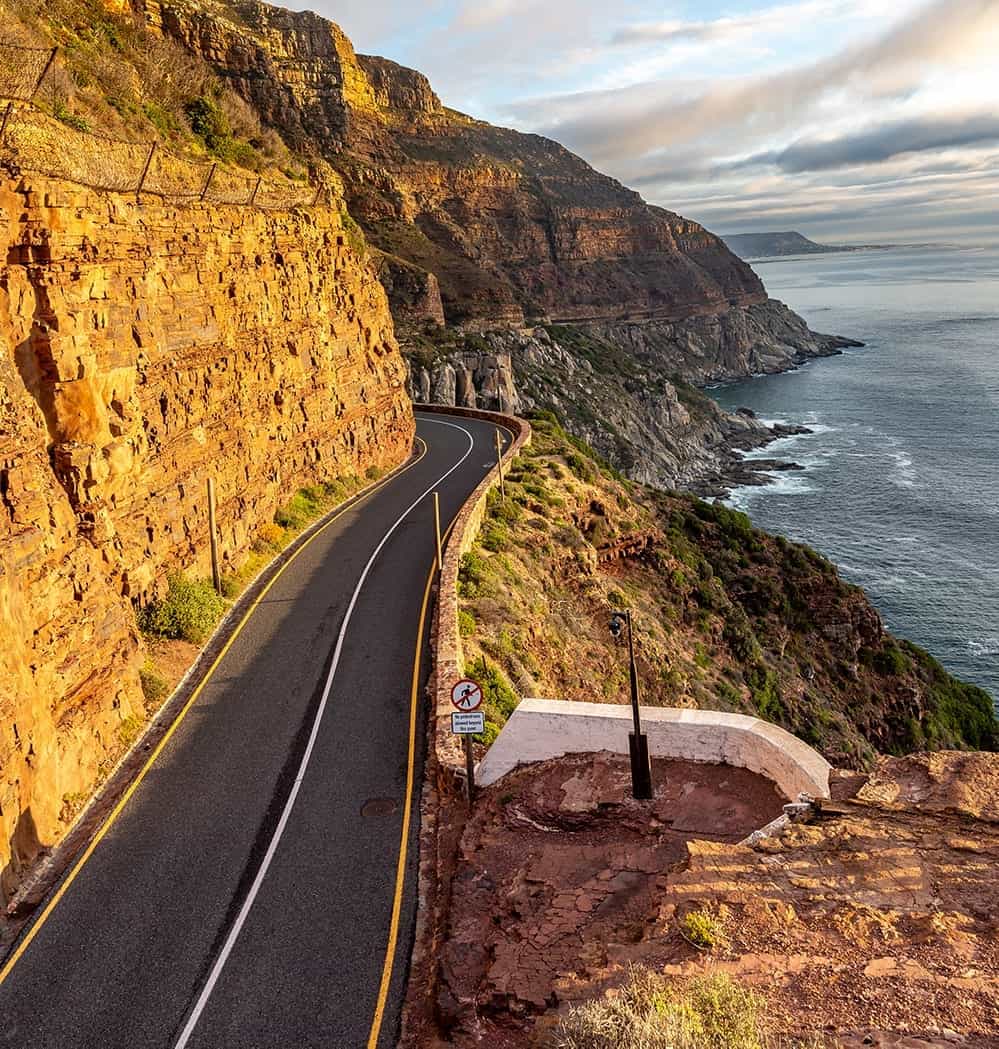 10. Bo-Kaap
Vibrant Malay Quarter
Bo-Kaap is a vibrant and colorful neighborhood in Cape Town that showcases the rich cultural heritage of the Cape Malay community. This historic area is known for its brightly painted houses and cobblestone streets, creating a picturesque backdrop for exploration and photography. Bo-Kaap is a must-visit destination for those interested in experiencing the diverse culture and history of Cape Town.
Here are some key highlights from Bo-Kaap:
1. History and Culture: Bo-Kaap is home to the Cape Malay community, which traces its roots back to the slaves brought to South Africa from Southeast Asia by the Dutch East India Company during the 17th and 18th centuries. The neighborhood's unique architecture, cuisine, and traditions reflect this vibrant history.
2. Colorful Houses: The brightly painted houses in Bo-Kaap are one of the neighborhood's most distinctive features. The tradition of painting the houses vibrant colors dates back to the 19th century, when former slaves were granted the freedom to express themselves through their homes' colorful facades.
3. Cape Malay Cuisine: Bo-Kaap is known for its delicious Cape Malay cuisine, which blends elements of Indonesian, Malaysian, and African cooking. Visitors can sample traditional dishes such as bobotie (a spiced minced meat dish), samoosas (deep-fried pastries), and koeksisters (syrup-coated pastries).
4. Mosques and Religious Sites: Bo-Kaap is home to several mosques, including the iconic Auwal Mosque, which is the oldest mosque in South Africa. Visitors can learn about Islamic culture and admire the beautiful architecture of these religious sites.
5. Museum and Cultural Center: The Bo-Kaap Museum offers visitors a chance to learn about the neighborhood's history, culture, and the experiences of the Cape Malay community. The museum displays historical artifacts, photographs, and interactive exhibits.
Visiting Bo-Kaap provides a unique and immersive experience of Cape Town's diverse cultural heritage. Whether you're interested in history, architecture, or culinary delights, this neighborhood has something to offer every traveler.
Experience the Vibrant Colors and Rich Culture of Bo-Kaap on Our Private City Tour of Cape Town! Book Your Adventure Today.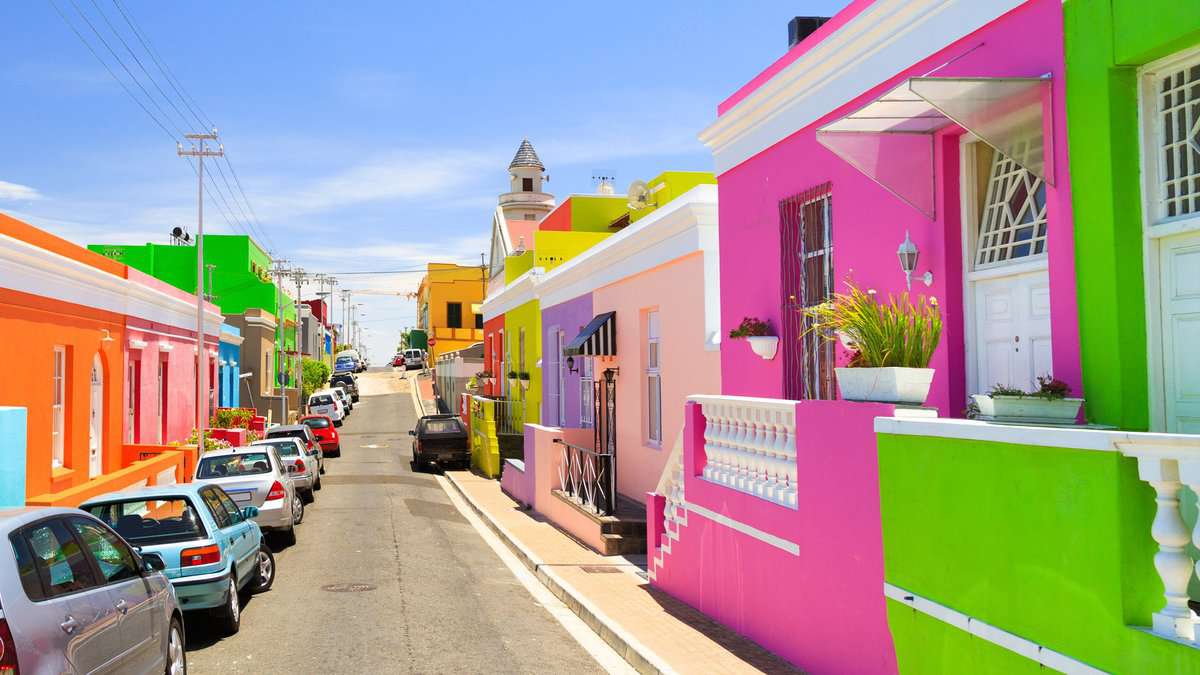 11. Conclusion
Planning a private custom tour in Cape Town allows you to tailor your itinerary to your specific interests and preferences, ensuring a personalized and unforgettable experience.
Here are a few tips to keep in mind when planning and booking your private tour:
1. Research and Plan: Take the time to research the top attractions and activities in Cape Town and create a list of must-visit destinations. This will help you narrow down your options and decide on the best private tour for your interests.
2. Consider Your Group Size: Private tours can accommodate different group sizes. Consider whether you will be traveling as a couple, a family, or a larger group. This will help you choose the right tour operator and vehicle size for your needs.
3. Communicate Your Expectations: When booking a private tour, be clear about your expectations and preferences with the tour operator. This will ensure that they can customize the itinerary to meet your needs and provide the best possible experience.
4. Book in Advance: Private tours in Cape Town can be in high demand, especially during peak tourist seasons. It is advisable to book your tour in advance to secure your preferred dates and avoid disappointment.
5. Read Reviews: Before booking a private tour, read reviews and testimonials from previous customers. This will give you an idea of the level of service the tour operator offers.
By following these tips, you can plan and book the perfect private tour in Cape Town. Allowing you to explore the city's top attractions and hidden gems at your own pace and convenience. Enjoy your adventure in the beautiful and diverse city of Cape Town!