Cape Peninsula Private Tour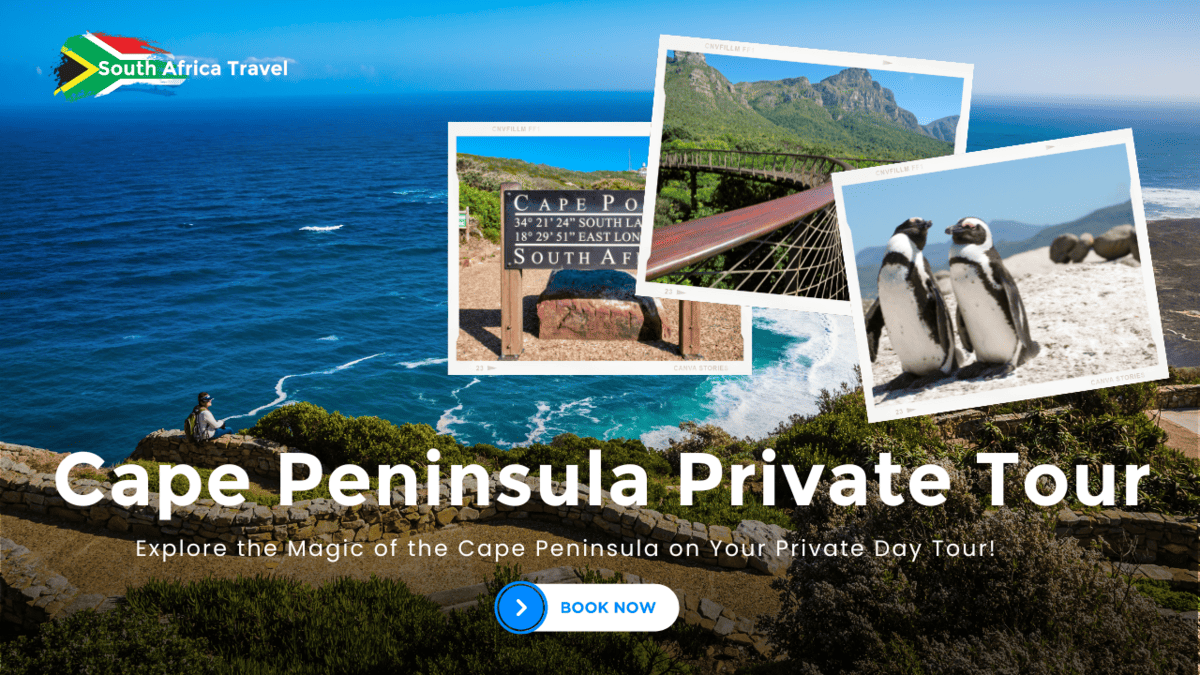 Explore the Magic of the Cape Peninsula and Cape Point on Your Private Day Tour!
Get ready to explore the magic of the Cape Peninsula with our exclusive Private Tour! 🌟 Picture this: breathtaking coastal views, adorable penguins at Boulders Beach, the thrill of Chapman's Peak Drive, and the charm of Hout Bay—all in one unforgettable day.
We're not your typical tour; we keep it personal and tailor the experience to you. Our guides are like your local buddies, sharing stories and showing you the hidden gems that make the Cape Peninsula so special.
From the iconic Cape Point to the stunning Cape of Good Hope, you'll soak in the beauty of these legendary landmarks. And those penguins? Get your cameras ready, because they're the cutest models around!
Chapman's Peak Drive will have you holding your breath with its twists and turns and unbeatable ocean views. And in Hout Bay, you'll get a taste of local life and delicious seafood.
Don't miss out on an adventure that's all about you. Book your Cape Peninsula Private Tour now and let's make some memories! 🌍🚗🐧📸
Private Day Tours around the Cape Peninsula and Cape Point
Cape Peninsula Private Tour Information:
Pricing: from R1 900,00 (ZAR) per adult (price varies by group size)
Ages: All Ages
Duration: 8 hours
Start time: 9:00 a.m.
Language: English
What's Included:
Bottled water and Mints
Certified driver tour guide
Hotel pick-up and drop-off
Private Vehicle
Custom Itinerary
Parking and Toll Fees
What's Not Included:
Gratuities
Cape Point and Boulders Beach entrance fees
Wine Tasting Fees at Groot Constantia
Meals and Refreshments
Cape Peninsula Private Day Tour Itinerary
Get ready to dive headfirst into a whirlwind of adventure as we unveil the captivating wonders of the Cape Peninsula.
This isn't just any day tour; it's a full-throttle exploration of the breathtaking Cape Peninsula region, nestled at the southwestern tip of Africa.
Brace yourself for a day packed with jaw-dropping scenery, iconic landmarks, and an immersion into the heart of South Africa's natural beauty.
Cape Point: Where Oceans Collide and Legends Come to Life
First stop: Cape Point! This isn't just an attraction; it's a soul-stirring experience. The sheer magnitude of its rugged cliffs, the panoramic views that'll leave your heart racing, and the iconic lighthouse that's stood the test of time Oh, and did we mention that Cape Point is the point where the mighty Atlantic and Indian Oceans come together in an epic watery embrace? It's a moment that will resonate with you long after the tour.
Cape of Good Hope: Nature's Grand Spectacle
Venturing within Table Mountain National Park, we arrive at the Cape of Good Hope. Etched in the annals of history, this landmark is more than just a name It's a living, breathing nature reserve that beckons with scenic hiking trails, a chance to dance with unique flora and fauna, and vistas that stretch beyond the imagination. Prepare to be astounded by the beauty that Mother Nature herself has created.
Boulders Beach: Penguin Paradise Awaits
Prepare for cuteness overload! Boulders Beach is home to an enchanting colony of African penguins, and they're the stars of the show. Watch as they waddle, swim, and play on sandy shores and granite boulders. It's a front-row seat to witness nature's show in all its unscripted glory. These delightful creatures are waiting to steal your heart.
Chapman's Peak Drive: A Road Less Traveled, A View Like No Other
Ready to hit the road again? Chapman's Peak Drive isn't just a road—it's an adventure in itself. Wind your way along this scenic coastal marvel and be prepared to gasp at the mesmerizing views of the boundless Atlantic Ocean and the towering cliffs that seem to touch the sky. This is no ordinary drive; it's a journey into a picture-perfect postcard scene.
Hout Bay: Coastal Charms and Seaside Whimsy
As we journey on, we arrive at Hout Bay, a coastal town that wears its charm on its sleeve. Quaint streets, a picturesque harbor, and an atmosphere that's alive with vibrancy Fancy a boat trip to meet Cape Fur seals? Or perhaps a stroll through local markets? And don't forget to savor the freshest seafood around!
Kirstenbosch National Botanical Garden: Nature's Symphony in Full Bloom
If time allows, we might just take you to Kirstenbosch National Botanical Garden. It's like stepping into a living canvas of South African indigenous plant species. A showcase of nature's artistry that's as diverse as it is enchanting
Discover the Cape in Style
We're not just tour guides; we're your companions on this epic journey. We're here to share stories, facts, and insights that will make every moment come alive. We prioritize safety and enjoyment to make your experience memorable.
You're not just joining a tour; you're becoming part of an adventure that's bound to leave a mark on your heart. So, are you ready to sail on a private Cape Peninsula day tour that's unlike any other? Let's make memories together that will last a lifetime! 🌞🌊🐧🚗🌳
Departure and Return:
Traveler pickup is offered.
We meet our clients at any hotel or accommodation within Cape Town.
Hotel pickup is offered. View the hotel list on our checkout page to see if yours is included among the pickup points.
Return details:
Returns to the designated departure point
Accessibility:
Infant seats are available.
Near public transportation
Stroller accessible
Wheelchair accessible
We're here to make your experience great! Tell us your accessibility needs in the form below, and we'll get back to you ASAP. Let's make your visit amazing!
Additional information:
A confirmation will be received at the time of booking.
Most travelers can participate.
This experience requires good weather. If it's cancelled due to poor weather, you'll be offered a different date or a full refund.
This experience requires a minimum number of travelers. If it's cancelled because the minimum isn't met, you'll be offered a different date or experience or a full refund.
This is a private tour or activity. Only your group will participate.
Cancellation policy:
For a full refund, cancel at least 48 hours in advance of the start date of the experience.
To book your Cape Peninsula private tour, fill out the form below:
Frequently Asked Questions About Cape Peninsula Private Tour:
What is the Cape Peninsula Private Tour?
The Cape Peninsula Private Tour is a personalized and exclusive experience that takes you on a memorable journey along the stunning Cape Peninsula in South Africa. You explore breathtaking landscapes, iconic landmarks, and hidden gems, all while enjoying the company of your knowledgeable guide.
How long is the tour?
The tour generally lasts around 8–9 hours, depending on various factors such as weather, traffic, and the pace at which you want to explore each stop.
What places will I visit during the tour?
You'll have the opportunity to visit a variety of incredible spots, including the Cape of Good Hope, Boulders Beach penguin colony, Chapman's Peak Drive, Hout Bay, and more. Our experienced guide will tailor the itinerary to make sure you don't miss a thing.
Can I customize the tour itinerary?
Absolutely! Our tour is all about giving you the flexibility to create your dream experience. If there are specific places you'd like to include or exclude, just let us know when you book, and we'll do our best to accommodate your preferences.
Is lunch included in the tour?
Lunch is not included in the tour price, but don't worry! We'll make sure to include stops at great local eateries along the way where you can savor delicious South African cuisine. Feel free to choose the options that tickle your taste buds.
How do I book the Cape Peninsula Private Tour?
Booking is easy! Just fill in the form above and follow the simple steps. If you have any questions or special requests, don't hesitate to reach out to our friendly customer support team.
What's the maximum group size for the private tour?
Our private tour is designed to provide an intimate experience, typically between 1 and 60. This ensures that you get the most out of your journey with personal attention from your guide.
What's the best time to take the tour?
The Cape Peninsula is beautiful year-round, but the weather can vary. The best time to visit is during the warmer months (October to April), when you can enjoy pleasant temperatures and clear skies. However, our tours run throughout the year to accommodate your travel plans.
Is the tour suitable for all ages and fitness levels?
Yes, the tour is designed to cater to various fitness levels and ages. While some walking might be involved at certain stops, we can adjust the pace and level of activity to ensure everyone can enjoy the tour comfortably.
What should I bring along for the tour?
Don't forget your camera to capture the stunning views, comfortable walking shoes, sunscreen, a hat, and some local currency for any personal expenses. Oh, and bring your enthusiasm for an unforgettable adventure!
To book your Cape Peninsula private tour, fill out the form below: