Customizable Cape Town Tours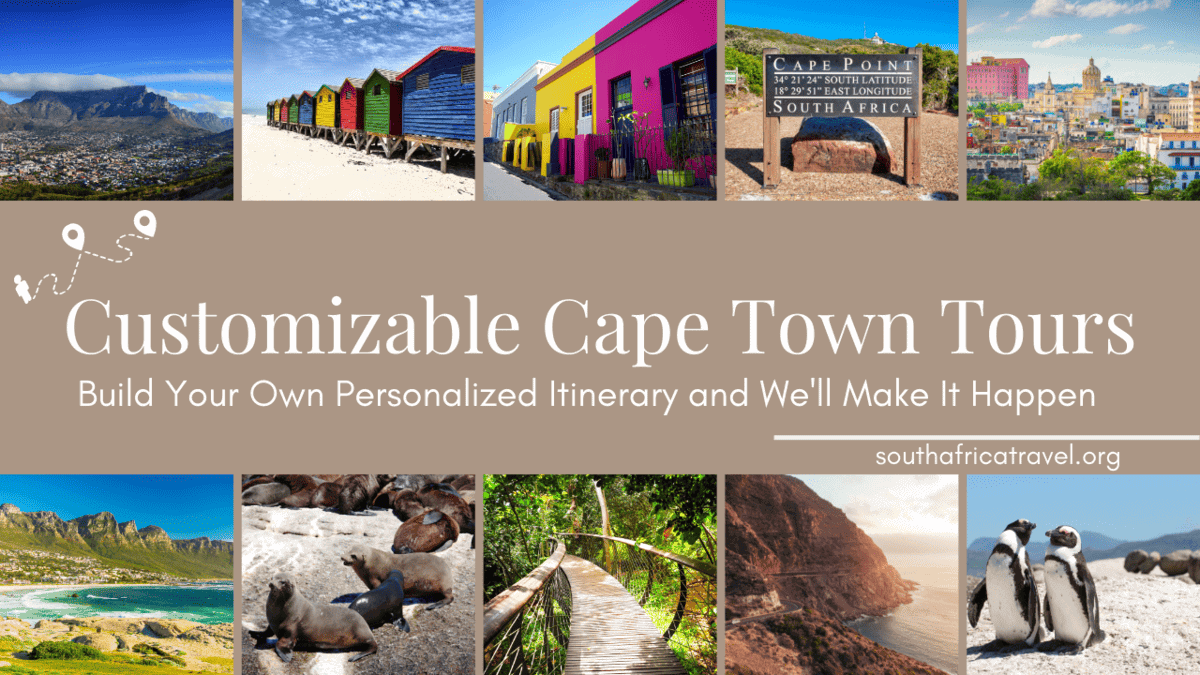 Welcome to Customizable Cape Town Tours! Your Journey, Your Way
Explore Cape Town Your Way with Our Custom Bespoke Tours
Are you ready for an adventure that's uniquely yours? Look no further than Customizable Cape Town Tours! We believe that every traveler is different, and your journey should reflect your individual tastes and interests. With our tailor-made tours, you have the power to create the Cape Town experience you've always dreamed of.
Why Choose Our Customizable Cape Town Tours?
Imagine strolling through the vibrant streets of Cape Town, hand-picking the attractions, activities, and experiences that resonate with you the most. With our custom tours, you're not limited to a pre-packaged itinerary. Instead, you get to be the architect of your own adventure. Our user-friendly platform empowers you to:
Build Your Itinerary: Select from a wide range of activities, from iconic landmarks like Table Mountain to hidden gems only locals know about. It's like crafting a personal scrapbook of memories before you even arrive!
Personalize Your Experience: Love art? Crave adventure? a foodie at heart? Choose experiences that match your passions, and we'll weave them into your itinerary for an unforgettable trip.
Expert Guidance: Our team of local experts is here to offer recommendations and suggestions based on your interests. We know Cape Town inside out and can help you uncover its best-kept secrets.
Flexibility: Plans change, and we understand that. Modify your itinerary as many times as you need before finalizing it.
Crafting Your Custom Cape Town Itinerary is as Easy as 1-2-3
Tell Us About You: Share your preferences, interests, and travel dates. The more we know, the better we can tailor your journey.
Choose Your Adventures: Browse our extensive list of activities and sights, and cherry-pick the ones that resonate with you.
Request a Quote: Once you're satisfied with your custom itinerary, simply request a quote. Our transparent pricing ensures you know exactly what you're getting.
Unleash Your Inner Explorer—Book Your Custom Tour Today!
With our customizable Cape Town tours, we're not just about creating tours; we're about crafting experiences that resonate with your heart and soul. We believe that travel is personal and that your journey should reflect your unique spirit.
So, are you ready to embark on a Cape Town adventure that's truly one-of-a-kind? Let's start building your dream itinerary today! Request a quote, and let's make your Cape Town travel dreams come true.
Remember, it's not just a tour; it's your story waiting to be written. Let's write it together with bespoke Cape Town tours.
Popular Cape Town Destinations and Attractions for Our Personalized Tours:
Table Mountain:

 

Rise Above it All
V&A Waterfront:

 

Where Shopping Meets Culture
Robben Island:

 

History Beckons
Boulders Beach:

 

Hang Out with Penguins
Cape Winelands:

 

Cheers to Good Times
Kirstenbosch National Botanical Garden:

 

Nature's Haven
Cape Point:

 

Where Two Oceans Meet
District Six Museum:

 

Stories of Resilience
Camps Bay Beach:

 

Sun, Sand, and Style
Groot Constantia:

 

Oldest Wine Estate
Bo-Kaap:

 

A Rainbow of Culture
Two Oceans Aquarium:

 

Underwater Wonders
Llandudno Beach:

 

Secluded Serenity
Castle of Good Hope:

 

Time Traveling
Hout Bay:

 

Wharfside Charm
Constantia Village:

 

Retail Therapy
Greenmarket Square:

 

Bargain Hunter's Paradise
Woodstock:

 

Creative Hub
Signal Hill:

 

Sunset Spectacle
Iziko South African Museum:

 

A Glimpse into the Past
Chapman's Peak Drive:

 

Scenic Serenity
Noordhoek Beach:

 

Untamed Beauty
Castle Street:

 

Culinary Delights
Whale Watching in Hermanus:

 

Majestic Encounters
Company's Garden:

 

Urban Oasis
Oranjezicht City Farm Market:

 

Local Flavors
Rhodes Memorial:

 

A Tribute to History
Iziko Bo-Kaap Museum:

 

Tales of Tradition
Muizenberg Beach:

 

Surf's Up!
District 6:

 

A Story of Resilience
Kalk Bay:

 

Quaint Charm by the Sea
Cape Wheel:

 

Sky-High Thrills
Cape Quarter:

 

Boutique Bliss
Lion's Head:

 

Hike to the Sky
Green Point Park:

 

Nature's Playground
The Old Biscuit Mill:

 

Creative Vibes
Devil's Peak:

 

Peak Perspective
St. George's Cathedral:

 

Architectural Marvel
Groot Constantia Manor House:

 

Heritage Haven
Your Adventure Awaits with Customizable Private Tours!
From cultural escapades to natural wonders, Cape Town offers an incredible array of experiences. It's time to make your mark on this vibrant city with personalized private tours.
Ready to turn your travel dreams into reality?
Request your personalized quote today and let the adventure begin. Cape Town is calling; are you ready to answer? Let's do this!
Frequently Asked Questions about Customizable Cape Town Tours:
How do I book a customizable tour in Cape Town?
Booking a tour with us is simple! Just complete the form above and follow the simple steps. You can then select your preferred date, duration, and number of people in your group. Our team will get in touch with you to confirm the details and tailor the tour according to your preferences.
Can I customize the itinerary of my tour?
Absolutely! Our tours are fully customizable. We understand that every traveler has different interests and preferences. Once you book a tour with us, we will reach out to you to discuss your preferences and create a personalized itinerary that suits your needs.
What types of tours do you offer in Cape Town?
We offer a wide range of tours in Cape Town, catering to different interests and preferences. Whether you're interested in exploring the city's vibrant culture, breathtaking natural landscapes, or indulging in unique culinary experiences, we have tours to suit every taste.
Are the prices for the tours fixed or subject to change?
Our tour prices are subject to change depending on various factors, such as the season, group size, and specific customization requests. The prices listed on our website are a general indication, and we will provide you with a final quote once we have discussed your tour requirements.
How experienced are your tour guides?
Our tour guides are highly experienced professionals who are passionate about Cape Town and sharing its wonders with visitors. They are knowledgeable and friendly, and they will ensure that you have an enjoyable and informative experience throughout your tour.
Do you provide transportation for the tours?
Yes, we provide transportation for all our tours. We have comfortable vehicles that accommodate different group sizes. Our knowledgeable guides will pick you up and drop you off at your desired location, ensuring a hassle-free experience.
What is your cancellation policy?
Our cancellation policy may vary depending on the specific tour and circumstances. However, we strive to be flexible and accommodate changes when possible. We recommend contacting our customer service team as soon as possible if you need to cancel or reschedule your tour.
Do you offer tours in languages other than English?
Yes, we offer tours in multiple languages. Please let us know your language preference during the booking process, and we will make the necessary arrangements to accommodate you.
Can you recommend any popular attractions and landmarks to include in my tour?
Absolutely! We have extensive knowledge of Cape Town's must-see attractions and landmarks. If you need recommendations or guidance on creating an itinerary, please view our list above for popular attractions and destinations and select those that interest you. Our team will be more than happy to assist you further.
Are your tours suitable for children and families?
Yes, our tours are designed to be family-friendly and suitable for travelers of all ages. We can curate activities and attractions that are appropriate for children, ensuring an enjoyable experience for the whole family.