Safari Tours from Cape Town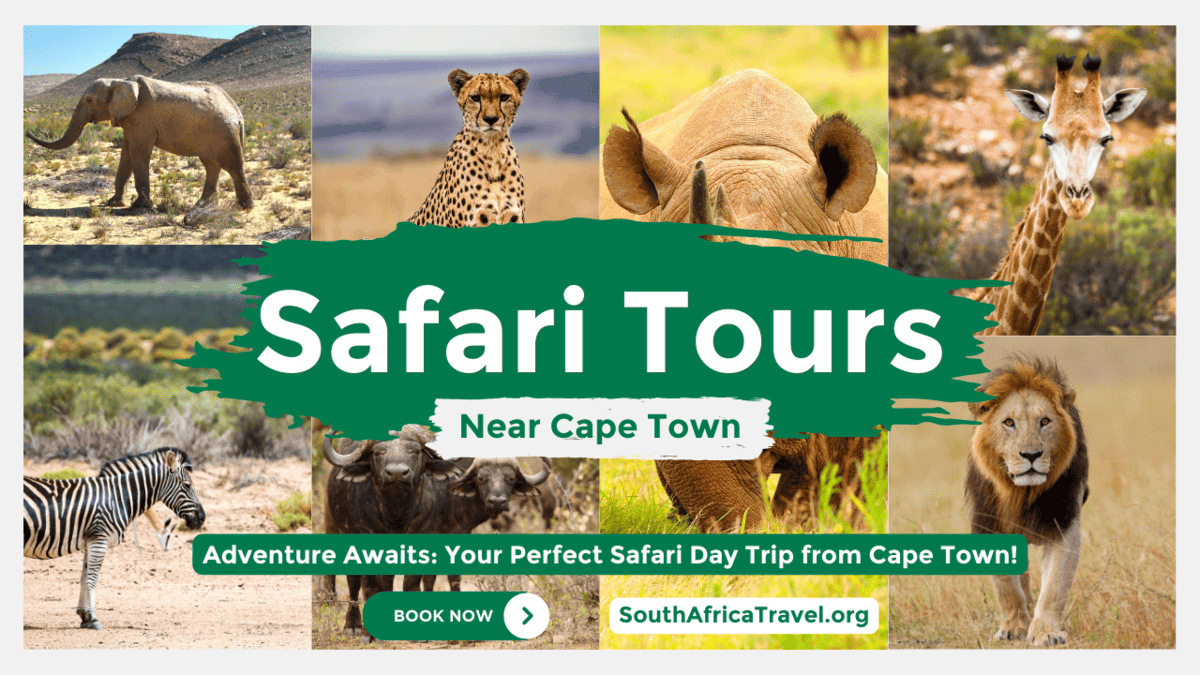 WEmbark on the Adventure of a Lifetime with Safari Tours from Cape Town!
Your Gateway to Thrilling Big 5 Wildlife Tours
We're absolutely thrilled to have you here on our Cape Town Safari Tours landing page. You will be astounded by the incredible things we have in store for you, whether you are interested in nature, seeking thrills, or simply have a lot of questions.
Why Choose Us for Cape Town Safari Tours?
Let's get right to the heart of the matter: when you choose us for your safari experience, you're not just choosing a tour; you're choosing an unforgettable journey that we're excited to embark on with you. Here's why we're your go-to partners for your safari dreams:
We're Your Safari Connectors:
Booking a safari tour can sometimes feel like navigating the jungle itself. But fear not! We're here to handle all the nitty-gritty details. We'll not only secure your spot at the safari nature reserve but also ensure everything is set and ready for your safari day trip adventure.
Private Shuttle, On the Double:
Ready to leave the logistics to us? Once you're all set for your Big 5 safari escapade, we've got a comfortable and convenient private shuttle waiting to whisk you away. No need to worry about transportation; we've got that covered. It's all about making your journey as seamless as spotting a cheetah in the grasslands!
Let's Create Memories Together:
More than just guides, we're your partners in creating memories that'll last a lifetime. Our team is made up of avid nature lovers, wildlife enthusiasts, and adventure seekers—just like you. We're excited to share our passion and knowledge with you, and we can't wait to be part of your Cape Town safari trip story.
From Booking to Safari Cape Town Adventure: We've Got Your Back
The moment you decide to join us on this wild ride, consider all the details taken care of. From securing your spot at the safari reserve to making sure you're comfortably transported to and from your wildlife tour adventure, we're here to make your experience stress-free and absolutely fantastic.
Adventure Awaits—Let's Make It Happen!
Are you ready to let the wind carry the tales of your Cape Town safari adventure? Ready to spot incredible wildlife, witness stunning landscapes, and create memories that'll bring a smile to your face for years to come? Let's make it all happen together!
Your Wildlife Safari Day Trips: Explore with Us Near Cape Town!
Get ready to dive into the heart of the wild, because we've got a lineup of incredible wildlife safari day trips that are as exciting as they are diverse. Whether you're a wildlife enthusiast, a photography buff, or simply someone looking for an adventure, we've got the perfect day trips lined up for you. Check out what's in store:
Aquila Private Game Reserve (Close to Cape Town)
Can you believe that an unforgettable safari experience is just a hop, skip, and a jump away from Cape Town? That's right! At Aquila Private Game Reserve, you'll get to witness the magic of the Big Five and more, all against the backdrop of breathtaking landscapes. It's a day trip that's equal parts thrill and wonder.
Inverdoorn Private Game Reserve (in the Tankwa Karoo – near Sutherland)
If you're up for a unique adventure, Inverdoorn in the Tankwa Karoo is calling your name. Imagine exploring a stunning desert landscape and spotting a variety of wildlife that has adapted to this rugged environment. Get ready to experience the Karoo's breathtaking beauty like never before!
Sanbona Wildlife Reserve (Near Cape Town)
Escape the city hustle and immerse yourself in the tranquility of Sanbona Wildlife Reserve. Just a stone's throw from Cape Town, this reserve offers a haven for wildlife and nature enthusiasts alike. From serene landscapes to fascinating wildlife encounters, this day trip has it all.
Gondwana Game Reserve (in the Western Cape)
For those seeking a safari experience in the Western Cape, Gondwana Game Reserve is the place to be. Surround yourself with the splendor of the Cape's unique landscapes while spotting incredible animals along the way. It's a day trip that combines adventure with the beauty of the Western Cape.
Garden Route Game Lodge (in Albertinia, Garden Route region)
Albertinia marks the entrance to the Garden Route, and Garden Route Game Lodge is your ticket to a day trip filled with awe and wonder. Immerse yourself in the beauty of the Garden Route while spotting wildlife in its natural habitat. It's an adventure you won't want to miss!
Cheetah Outreach (at Paardevlei, across from the Somerset Mall)
If you're passionate about big cats and conservation, Cheetah Outreach at Paardevlei is a must-visit. This day trip offers a chance to get up close and personal with cheetahs and other incredible creatures. It's not just a day of discovery; it's a day of making connections that matter.
Ready to embark on a wildlife safari day trip that's tailor-made for your sense of adventure? Join us as we explore these incredible reserves, witness jaw-dropping wildlife moments, and create memories that'll last a lifetime.
Ready to Embark on Your Big 5 Safari Cape Town Tour? Let's Make It Happen!
Are you feeling the excitement in the air? The call of the wild is louder than ever, and we can't wait to have you join us on an unforgettable Big 5 safari adventure near Cape Town.
The magic of encountering lions, elephants, rhinos, and more awaits you, and all you need to do to kickstart this adventure is fill out the booking form below.
It's as easy as spotting a leopard in the jungle! Let's turn your safari dreams into reality and create memories that will stay with you forever.
Get ready to be amazed, inspired, and thrilled like never before.
We're here to make it all happen, so let's take this leap into the wild together!
Book Your Safari Tours from Cape Town Below
Frequently Asked Questions About Safari Tours from Cape Town:
What is a safari tour?
A safari tour is an exciting outdoor adventure that allows you to explore wildlife reserves and national parks, providing an opportunity to observe and photograph a wide variety of animals in their natural habitats.
Which reserves or parks can I visit on a safari tour from Cape Town?
There are six popular reserves and parks near Cape Town, such as Aquila Private Game Reserve, Inverdoorn Game Reserve, Sanbona Wildlife Reserve, and the Garden Route Game Reserve.
How long are the safari tours?
The duration of safari tours may vary, but most tours typically range from a full-day excursion to multi-day experiences. Tour lengths can range anywhere from a few hours to several days, depending on the package you choose.
What animals can I expect to see on a safari tour?
While the specific animals you encounter will depend on the reserve or park you visit, common sightings include the "Big Five": lion, leopard, elephant, rhinoceros, and Cape buffalo. Additionally, you may spot giraffes, zebras, cheetahs, antelopes, hippos, and a variety of bird species.
Do I need any special equipment or clothing for a safari tour?
It is advisable to wear comfortable clothing in neutral colors and closed-toe shoes. Additionally, don't forget essentials such as sunscreen, a hat, sunglasses, insect repellent, and a light jacket for cooler mornings or evenings. Binoculars and a camera with a zoom lens are also recommended.
Are safari tours suitable for children?
Many safari tours are suitable for children, and some reserves even offer specific family-friendly packages. However, it's important to check the age restrictions or guidelines provided by the tour operators beforehand.
Can I book a safari tour as a solo traveler?
Yes, you can book a safari tour as a solo traveler. Many tour operators offer options for single travelers, and you may also have the opportunity to meet and interact with other travelers during your tour.
Is it safe to go on a safari tour?
Yes, safari tours are generally safe, especially when booked through reputable tour operators. These operators prioritize the safety of their guests and have experienced guides who are knowledgeable about the animals and their behavior.
What is the best time to go on a safari tour from Cape Town?
The best time for a safari tour will depend on your preferences. South Africa's winter months from May to September are considered a good time for game viewing due to less foliage. However, the summer months from November to February offer lush landscapes and the opportunity to witness the offspring of many animals. It is recommended to check with tour operators or do some research to find the best time for the specific reserve or park you wish to visit.