Welcome to Our Cape Town Private Tours: Your Gateway to Unforgettable Adventures!
Hey there, fellow adventurers and explorers! If you're ready to immerse yourself in the captivating beauty and rich culture of Cape Town, you're in the right place. At Cape Town Private Tours, we're all about turning your travel dreams into reality, one personalized adventure at a time. Get ready to embark on a journey of discovery like no other, where every moment is curated just for you.
Why Choose our Cape Town Private Tours?
Imagine standing atop the iconic Table Mountain, soaking in panoramic views that take your breath away. Imagine strolling through the colorful streets of Bo-Kaap, where history and culture intertwine seamlessly. Picture yourself sipping on world-class wines amidst the stunning vineyards of the Cape Winelands. With Cape Town Private Tours, these visions become your reality.
Our mission is simple: to make your Cape Town experience truly exceptional with private Cape Town guided tours. We're not just here to offer tours; we're here to provide you with memories that last a lifetime. Whether you're an avid nature lover, a history enthusiast, a wine connoisseur, or someone simply seeking new horizons, our range of private tours has something for everyone.
Ready to Dive In? Let's Explore Your Private Cape Town Tour Options.
Our Private Cape Town Tour Packages: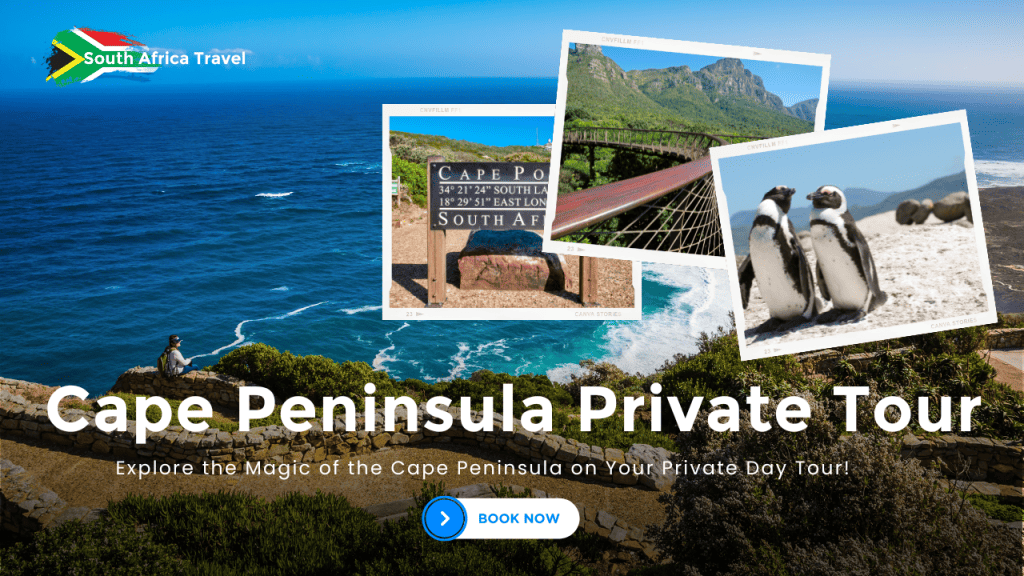 Imagine standing at the edge of the world, where the sky meets the sea—that's Cape Point for you! Our Cape Peninsula Private Tour (day tour package) takes you on a mesmerizing journey, from the spectacular cliffs of Chapman's Peak Drive to the charming penguins of Boulders Beach. If you're yearning for natural beauty that leaves you breathless, this is the tour for you. Learn more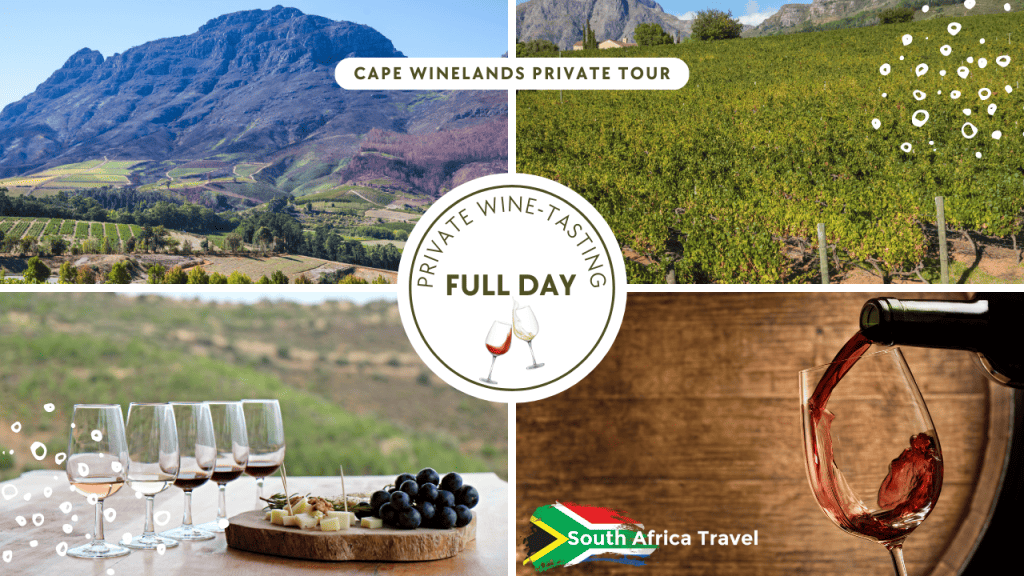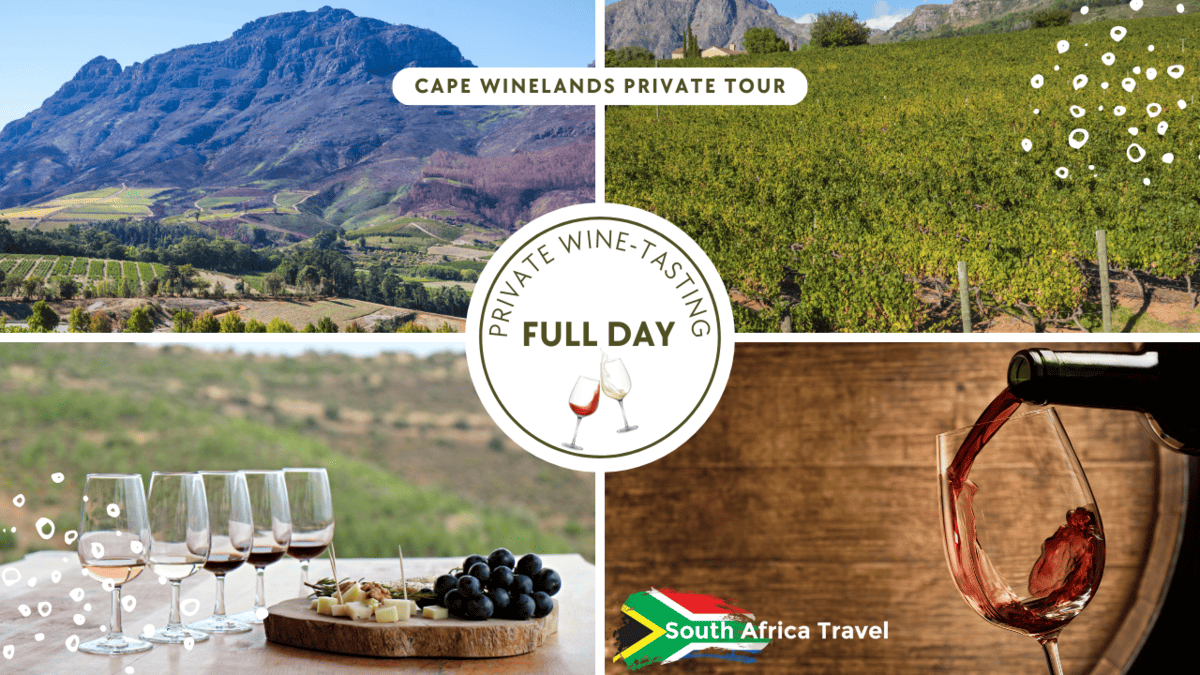 Calling all wine aficionados! Prepare to be whisked away to a world of rolling vineyards, picturesque landscapes, and, of course, exquisite wines. Our Cape Winelands Private Tour (day tour package) treats you to an exclusive wine-tasting adventure in the heart of South Africa's renowned wine country. Sip, swirl, and savor your way through a selection of the finest vintages. Learn more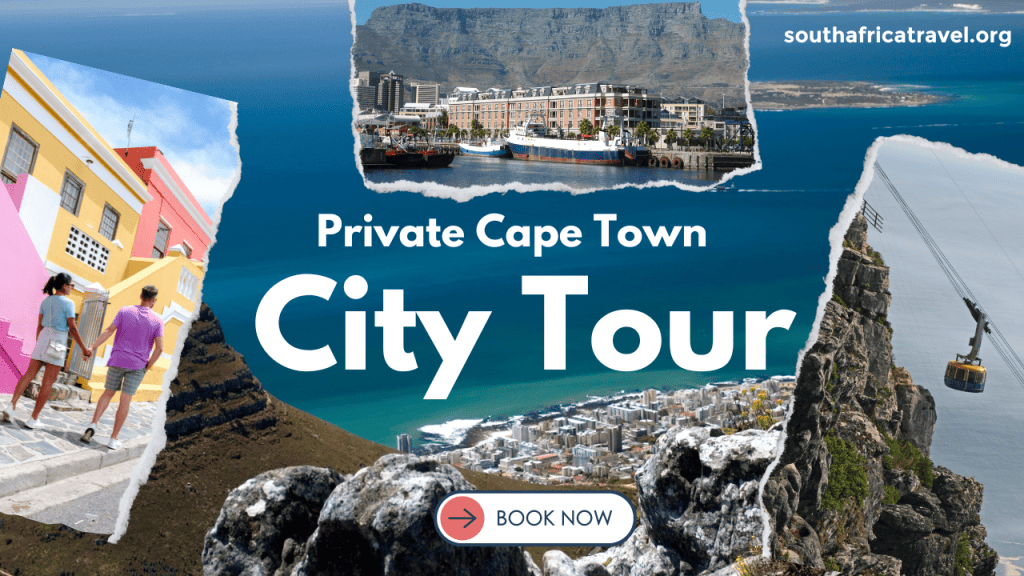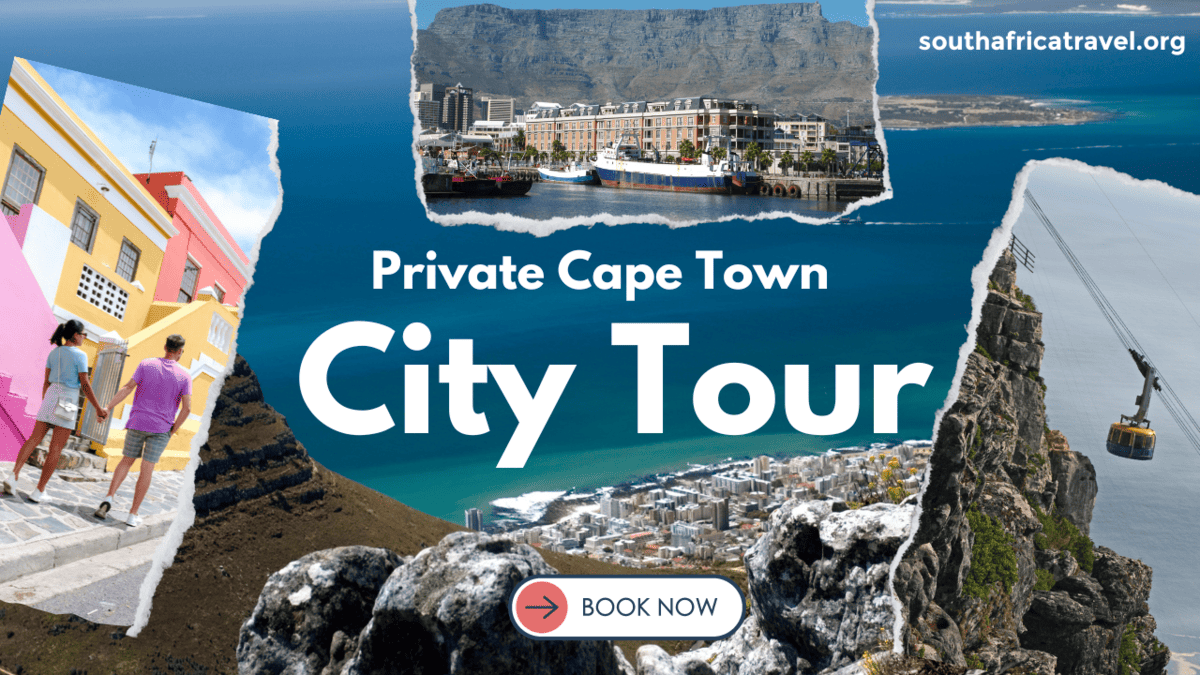 Uncover the beating heart of Cape Town through our Private City Tour (a day tour package). This is your chance to delve into the city's vibrant history, colorful culture, and iconic landmarks. Walk the charming streets of Bo-Kaap, soak in the tranquility of the Company's Garden, and capture the essence of Cape Town's past and present in one unforgettable tour. Learn more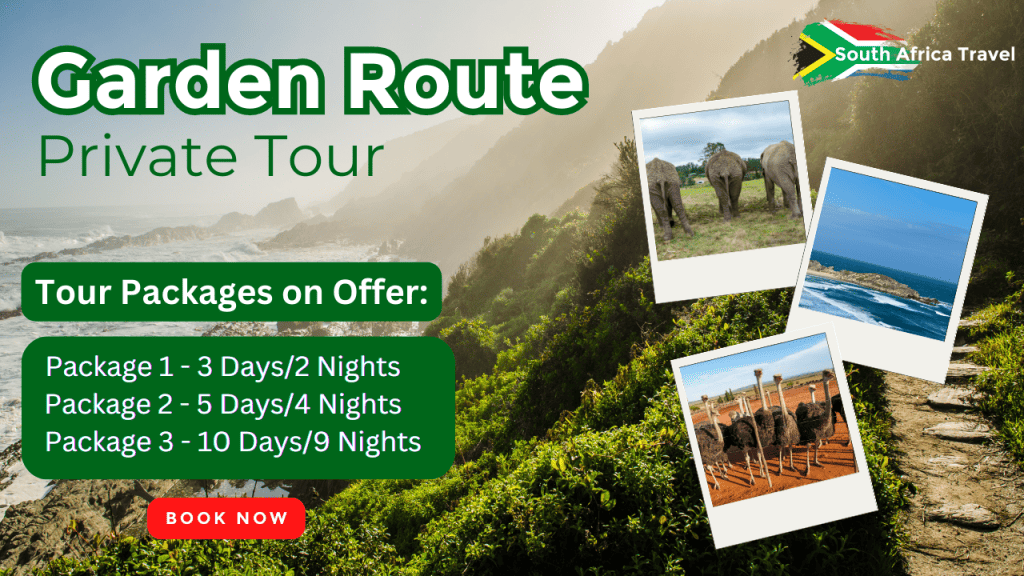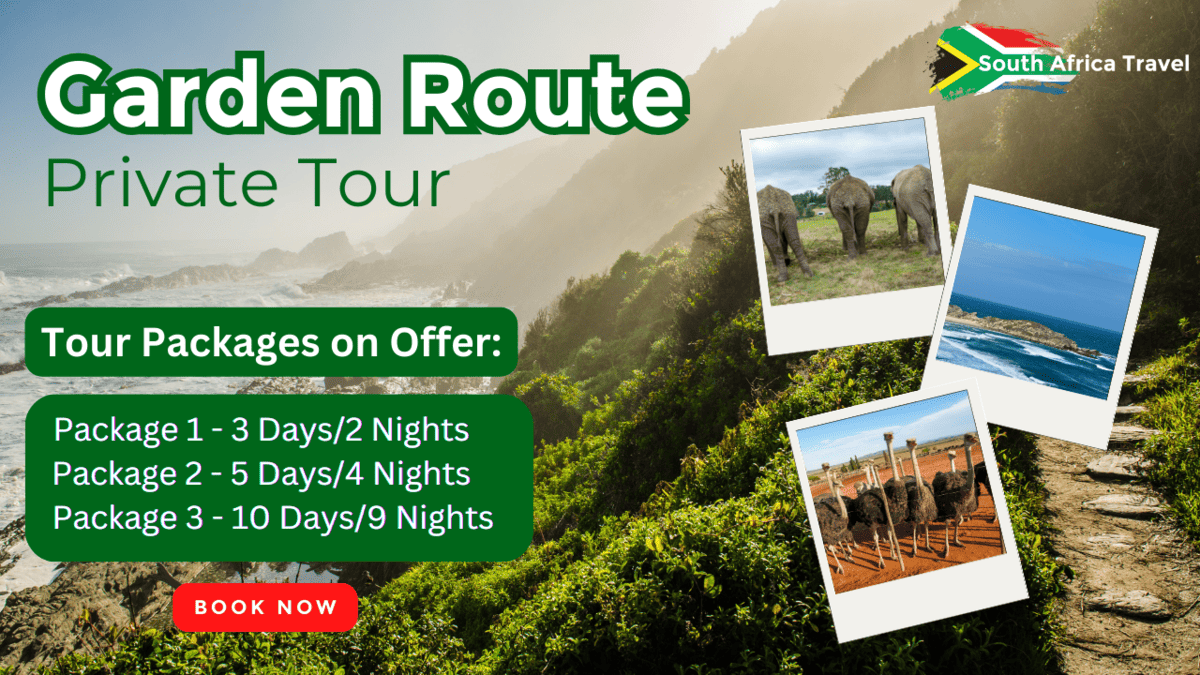 Nature enthusiasts, this one's for you! The Garden Route Private Tour (multi-day tour package) is a journey through stunning landscapes, from ancient forests to pristine beaches. It's like stepping into a postcard as you explore quaint coastal towns, immerse yourself in natural beauty, and create memories that last a lifetime. Learn more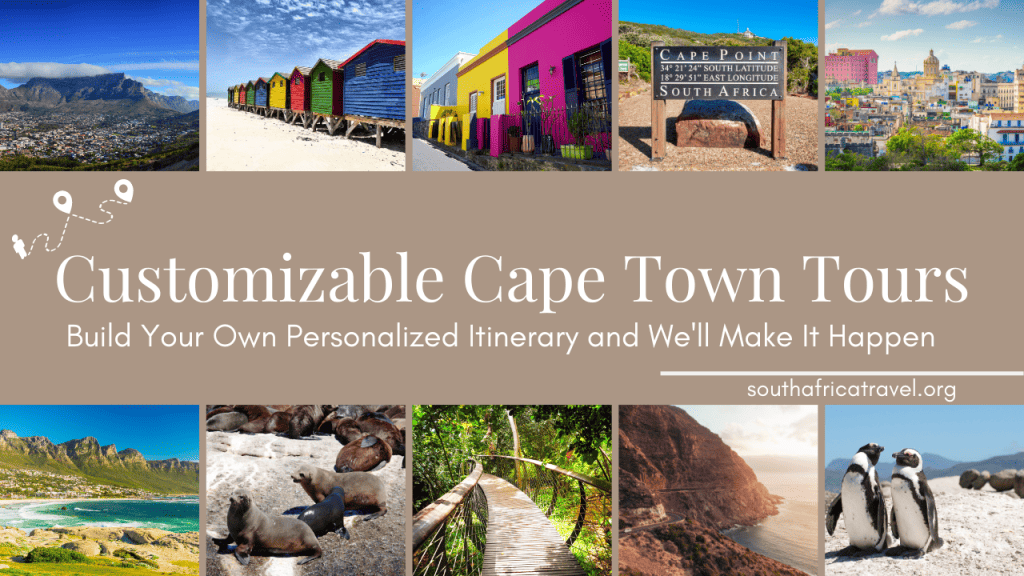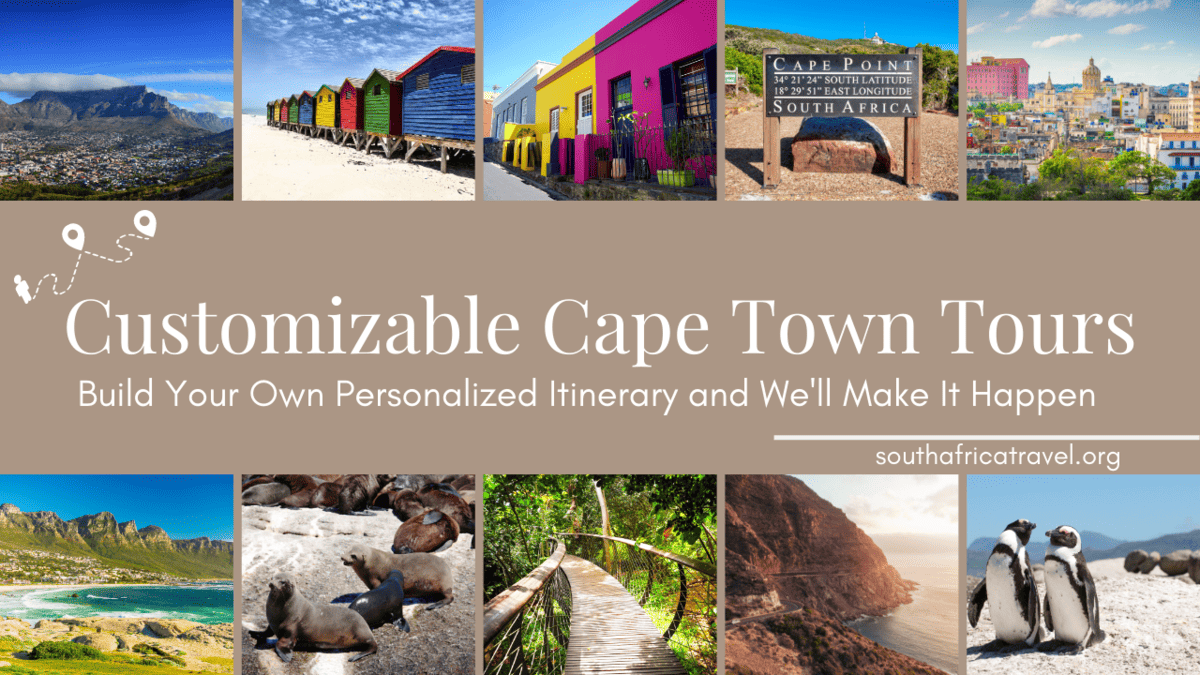 It's your adventure, your way! Our Customizable Cape Town Tours are tailored to your interests, preferences, and schedule. Whether you're seeking cultural escapades, thrilling outdoor activities, or a mix of everything, we've got you covered. Let's create an experience that's uniquely yours. Learn more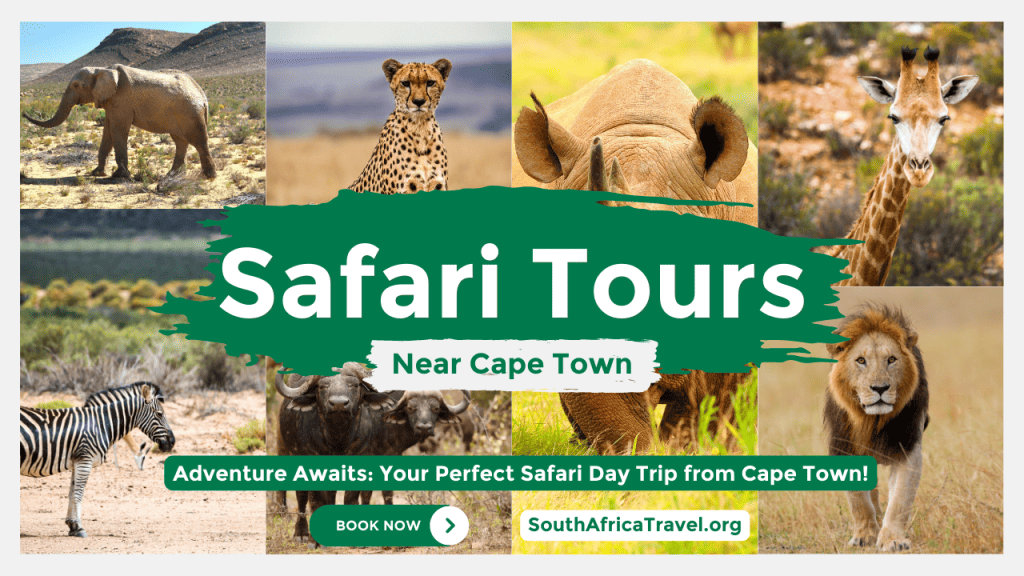 Get ready for a wild encounter! Our Safari Tours from Cape Town take you on a thrilling expedition into the heart of the African wilderness. Witness majestic animals in their natural habitat, capture awe-inspiring moments, and let the untamed beauty of nature leave an indelible mark on your soul. Learn more
Why Choose SouthAfricaTravel.org for Private Tours in Cape Town?
Personalized Attention: Our private tours mean it's all about you. Enjoy dedicated attention from our expert guides, ensuring every moment is enriching.
Local Expertise: Our guides are passionate locals with insider knowledge and captivating stories that breathe life into every tour.
Flexibility: We get that life happens and plans change. Our flexible options ensure your tour aligns perfectly with your schedule.
Memories to Treasure: More than tours, we're in the business of crafting memories. Expect experiences that linger in your heart long after you've returned home.
Ready to Make Your Cape Town Dreams Come True? Let's Go!
The adventure of a lifetime is just a click away. Head over to SouthAfricaTravel.org's private tours in Cape Town links mentioned above to delve into the details of each captivating tour and secure your spot for an unforgettable Cape Town experience.
Adventure, Culture, and Natural Beauty Await with SouthAfricaTravel.org's Cape Town Private Tours. Your Cape Town Adventure Starts Here!
Frequently Asked Questions about Cape Town Private Tours
1. What exactly are Cape Town Private Tours?
Think of them as your golden ticket to personalized exploration! Our Cape Town Private Tours are exclusive adventures crafted just for you. Whether you're yearning for a tour of the city's historical sites, a taste of the finest wines in the Cape Winelands, or an up-close encounter with wildlife on a safari, we've got you covered.
2. Why should I choose a private tour over a group tour?
Great question! With our Cape Town private day tours, it's all about you. No sharing the spotlight or rushing to keep up. You get undivided attention from our expert guides, allowing you to truly savor every moment and tailor the experience to your preferences.
3. Are these tours suitable for families?
Absolutely! Our tours cater to adventurers of all ages, including families. Just let us know your group size and any special requirements, and we'll make sure everyone has an amazing time.
4. Can I customize my tour based on my interests?
You bet! We love crafting experiences that match your passions. Whether you're into history, food, outdoor adventures, or all of the above, our customizable Cape Town Tours can be tailored to your interests. Just give us a heads up, and we'll work our magic.
5. How do I book a Cape Town Private Tour?
Booking is a breeze! Head over to our website, find the tour that tickles your fancy, and hit that "Book Now" button. If you have any special requests or questions, feel free to reach out to our friendly team; we're here to assist!
6. Are the prices all-inclusive?
Absolutely! Our tour prices cover a bunch of goodies: expert guides, entrance fees, transportation, and all the little details that make your adventure exceptional. You won't be caught off guard by hidden fees, we promise.
7. What happens if my plans change?
Life happens, right? If your plans shift, just let us know as soon as you can. We're pretty flexible and will do our best to accommodate changes. Just keep in mind that there might be instances where rescheduling isn't possible due to availability, so it's best to reach out as early as you can.
8. Do I need to tip the guides?
While tipping isn't mandatory, it's a fantastic way to show your appreciation if your guide goes above and beyond to make your tour unforgettable. They'll appreciate it, and you'll get to feel like a hero for brightening someone's day.
9. Are these tours suitable for solo travelers?
Absolutely! Our tours are perfect for solo travelers seeking to explore Cape Town with the perfect blend of guidance and freedom. You'll have a blast making new friends and experiencing the city's magic.
10. Can I get a refund if I need to cancel?
We get that sometimes things don't go as planned. Cancellation policies can vary depending on the tour and timing, so be sure to check out the details on our website or reach out to us directly for the scoop.
11. Can I bring my kids along on the tours?
Absolutely! We welcome young adventurers with open arms. Our tours are designed to engage and entertain all ages, ensuring that the whole family has an unforgettable time exploring Cape Town's wonders.
12. What should I wear and bring on the tours?
Dress comfortably and according to the weather; Cape Town can surprise you with its changing moods! Don't forget comfy shoes for those exploratory strolls. As for what to bring, a water bottle, sunscreen, and a sense of adventure are the perfect companions.
13. How do you ensure safety during the tours?
Your safety is our top priority. Our guides are well-trained and experienced, and they're equipped to handle various situations. Plus, we adhere to local safety regulations to ensure that you can enjoy your tour worry-free.
14. Do you offer tours in languages other than English?
Absolutely! We want you to feel at home during your adventure. Just let us know your language preference when booking, and we'll do our best to accommodate it.
15. Are the tours wheelchair-accessible?
We believe everyone should have the chance to explore. Some of our tours may be wheelchair accessible, but it's best to reach out to us in advance so we can make the necessary arrangements and ensure your comfort.
16. What's the best tour for capturing stunning photos?
If you're looking to fill your camera roll with breathtaking shots, our Cape Peninsula Private Tour and Garden Route Private Tour are your go-to choices. These routes are a photographer's dream, offering stunning landscapes and picture-perfect moments at every turn.
17. Can I book a tour for a large group?
Absolutely! Whether you're planning a corporate event, a family reunion, or just an epic day out with friends, we can accommodate large groups. Reach out to us with the details, and we'll make sure everyone has an incredible time.
18. Are there food options available during the tours?
Definitely! Some of our tours include stops at local eateries where you can savor delicious South African cuisine. If you have dietary preferences or restrictions, let us know, and we'll make sure you're well taken care of.
19. Can I extend or customize the duration of a tour?
We love adventurers who want to squeeze every drop of joy from their journey! If you're looking to extend a tour or add extra stops, reach out to us, and we'll work together to create a tailored experience that's perfect for you.
20. What's the most popular tour among travelers?
While all our tours have their own unique charm, the Cape Peninsula Private Tour tends to steal the show. It's a delightful blend of natural beauty, historical sites, and adorable penguins—what's not to love?
Got More Questions? We're All Ears!
We hope this Q&A session has given you a taste of the exciting adventures waiting for you with SouthAfricaTravel.org's Cape Town Private Tours. If you're still curious about something or simply want to chat, our friendly team is just a message away. You can send us an email by clicking here. We're here to make your Cape Town experience extraordinary!
Embrace the Adventure with SouthAfricaTravel.org's Cape Town Private Tours. Your Curiosity and Exploration Await!