#kalkbayadventures #explorekalkbay #kalkbayattractions #kalkbaytourism #coastalgetaway #kalkbayactivities #hiddengems #travelkalkbay #scenicviews #kalkbayexperience
Kalk Bay, a charming seaside town in Cape Town, offers a plethora of activities that cater to every taste and interest.
Whether you're a nature lover, an art enthusiast, or a foodie, Kalk Bay has something for everyone.
From exploring art galleries to indulging in delicious cuisine, this blog post will guide you through the best things to do in Kalk Bay.
So grab your sunscreen, put on your adventure hat, and get ready to discover the hidden gems of this coastal gem.
Introduction to Kalk Bay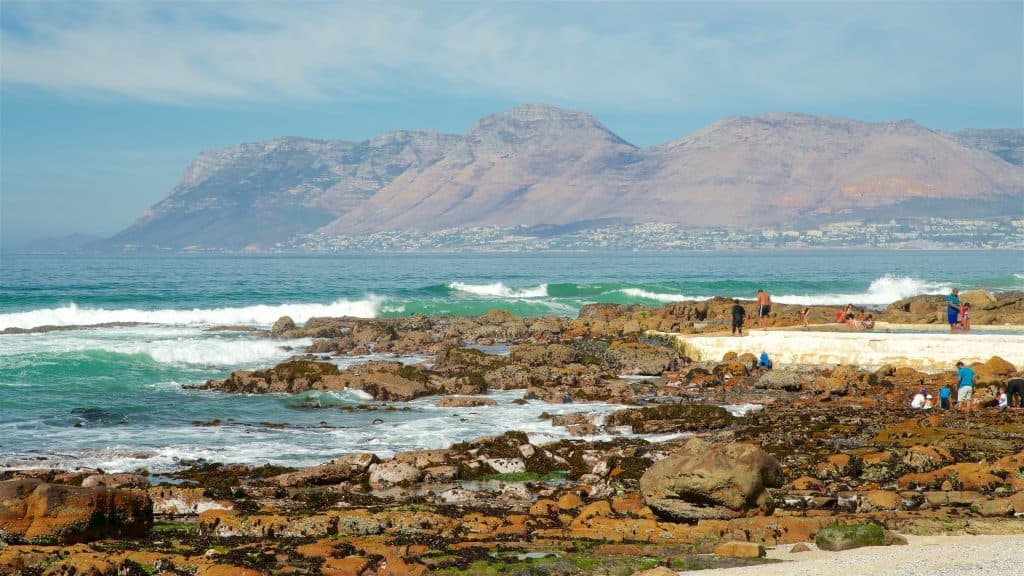 Kalk Bay is a charming coastal village located on the eastern coast of the Cape Peninsula in South Africa. It is known for its bohemian atmosphere, stunning ocean vistas, and a wide range of activities to suit every taste. Whether you are a nature lover or a food enthusiast, Kalk Bay has something to offer everyone.
A brief overview of Kalk Bay and its uniqueness
Kalk Bay is a small fishing harbor that has retained its old-world charm, with colorful Victorian buildings lining the main street. The village is nestled between the mountains and the ocean, creating a picturesque backdrop for visitors. One of the unique features of Kalk Bay is its vibrant art scene, with numerous galleries showcasing the work of local artists.
For nature enthusiasts, a visit to the Kalk Bay Caves is a must. These caves offer breathtaking views of the coastline and provide a glimpse into the geological history of the area. Additionally, Kalk Bay is home to a diverse marine ecosystem, making it an ideal spot for snorkeling, scuba diving, or simply observing marine life.
Food lovers will be delighted by the wide selection of eateries in Kalk Bay. From trendy cafes to seafood restaurants, there is something to satisfy every palate. The village is especially famous for its fresh seafood, with many restaurants offering daily catches straight from the ocean.
One of the highlights of a visit to Kalk Bay is exploring the quaint shops and boutiques that sell everything from unique clothing to handcrafted jewelry. The village also hosts a popular market on weekends, where visitors can browse through a variety of local products and artisanal crafts.
In conclusion, Kalk Bay is a hidden gem on the Cape Peninsula that offers a blend of natural beauty, cultural experiences, and culinary delights. Whether you are seeking relaxation or adventure, this coastal village has it all. Are you prepared to embark on a once-in-a-lifetime adventure? Book your Cape Peninsula tour now!
Exploring the village
Kalk Bay, a delightful seaside town located on the False Bay coastline of Cape Town, offers a plethora of activities and attractions for visitors to enjoy. Whether you're a nature enthusiast, an art lover, or simply looking to unwind by the beach, Kalk Bay has something for everyone.
Kalk Bay Main Road and its charming shops and galleries
Take a leisurely stroll along Kalk Bay Main Road, where you'll find a charming array of boutique shops, art galleries, and antique stores. From vintage clothing to unique handcrafted jewelry, there's no shortage of treasures to discover. Don't miss out on the opportunity to browse through locally curated artwork and meet talented artists who call Kalk Bay home.
The Brass Bell Pub and its stunning ocean views
Perched on the rocks overlooking the ocean, the Brass Bell Pub is a must-visit destination in Kalk Bay. Indulge in delicious seafood dishes while enjoying panoramic views of crashing waves and majestic mountains. This iconic pub offers a relaxed and laid-back atmosphere where you can unwind with a cold drink in hand, creating memories that will last a lifetime.
St. James Beach and its colorful beach huts
A short distance from Kalk Bay, you'll find St. James Beach, famous for its vibrant and picturesque beach huts. These colorful structures line the promenade and provide the perfect backdrop for a leisurely beach day or a refreshing swim in the tidal pool. Soak up the sun, stroll along the soft sand, and marvel at the beauty of the ocean while surrounded by the charm of St. James Beach.
No matter what you choose to do in Kalk Bay, be it exploring the charming shops and galleries on Main Road, enjoying a drink at The Brass Bell Pub, or relaxing on St. James Beach, this coastal gem is sure to leave you with unforgettable experiences and cherished memories.
Discovering the Kalk Bay Harbour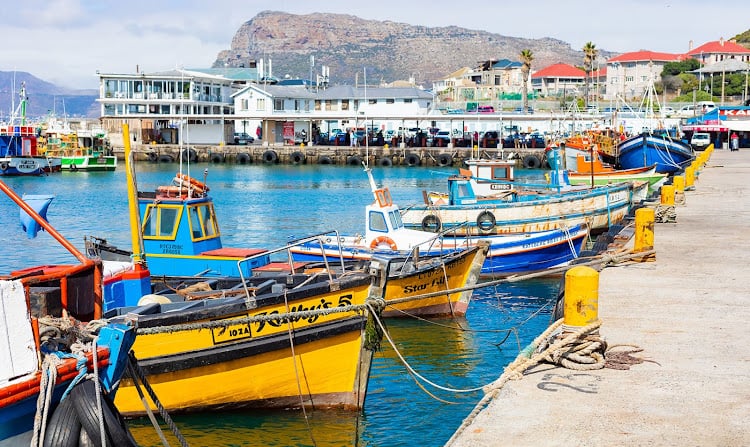 Kalk Bay Harbour Market and its local food and crafts
If you find yourself in Kalk Bay, a quaint seaside village near Cape Town, South Africa, make sure to visit the Kalk Bay Harbour. This lively and picturesque harbor offers a range of activities that are sure to delight visitors of all ages.
One of the main attractions at Kalk Bay Harbour is the vibrant Kalk Bay Harbour Market. Here, you can immerse yourself in the local culture and sample a variety of delicious food offerings from food trucks and stalls. From freshly caught seafood to mouth-watering local delicacies, the market is a food lover's paradise.
Not only can you indulge in delectable treats, but you can also browse through a wide selection of unique crafts and handmade goods. Local artisans showcase their talent and sell items such as intricate jewelry, handmade clothing, and beautiful artwork. Supporting these local vendors not only allows you to take home a special souvenir but also contributes to the growth of the community.
Seal spotting at Kalk Bay Harbour
Another activity that shouldn't be missed at Kalk Bay Harbor is seal spotting. The harbor is home to a colony of Cape fur seals, and watching them frolicking in the water or sunbathing on the rocks is a delightful sight. You can easily spot them from various vantage points along the harbor or even take a boat tour for a closer look.
Visiting the Kalk Bay Fish and Chips Shop
For a true taste of the seaside, pay a visit to the popular Kalk Bay Fish and Chips Shop. This local institution is famous for serving up some of the best fish and chips in the area. Enjoy your meal while sitting at one of the outdoor tables overlooking the harbor and taking in the bustling atmosphere.
Whether you're a food enthusiast, a nature lover, or simply seeking a relaxing day by the sea, Kalk Bay Harbour has something to offer everyone. From indulging in local cuisine and crafts at the market to spotting playful seals and enjoying a meal with a view, Kalk Bay Harbour is a must-visit destination for any traveler in the area.
Outdoor Activities in Kalk Bay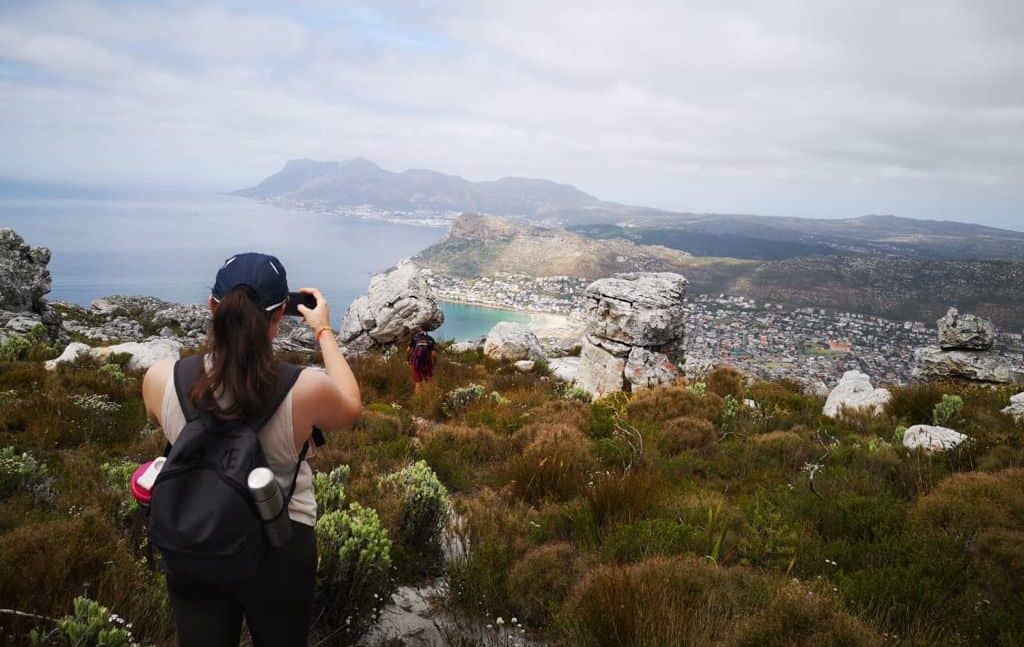 Hiking along the Kalk Bay mountainside
Kalk Bay is a picturesque coastal town in South Africa that offers a range of outdoor activities for adventure enthusiasts. One of the best ways to explore the natural beauty of this area is by hiking along the Kalk Bay mountainside.
The mountainside offers breathtaking views of the ocean and the surrounding landscapes, making it a perfect spot for outdoor enthusiasts and nature lovers. There are several hiking trails that cater to different fitness levels, so whether you're a beginner or an experienced hiker, there's something for everyone. Don't forget to bring your camera, as there will be plenty of Instagram-worthy photo ops along the way.
Surfing at Surfer's Corner
If you're a fan of water sports, then you must visit Surfer's Corner in Kalk Bay. This popular surfing spot is known for its consistent waves and vibrant surf culture. Whether you're a beginner looking to take a surf lesson or an experienced surfer wanting to catch some epic waves, Surfer's Corner has it all. The beach is also great for sunbathing and beach picnics, so even if you're not a surfer, you can still enjoy the beautiful surroundings and soak up the relaxed beach vibes.
Kayaking and paddleboarding in Kalk Bay Cove
For those looking for a more leisurely outdoor activity, kayaking and paddleboarding in Kalk Bay Cove are a must-try. The calm waters of the cove provide the perfect setting for a peaceful day on the water. Rent a kayak or a paddleboard and explore the coastline at your own pace. You might even spot some marine life, such as seals, dolphins, or seabirds, along the way. It's a great way to connect with nature and enjoy the tranquility of the ocean.
Kalk Bay offers a wide range of outdoor activities for every adventure seeker. Whether you're an avid hiker, a surf enthusiast, or simply want to enjoy a leisurely day on the water, Kalk Bay has something for everyone. So pack your sunscreen, grab your hiking boots or surfboard, and get ready to explore the natural beauty of this coastal town.
Dining in Kalk Bay
Kalk Bay, located on the picturesque Cape Peninsula in South Africa, is not only known for its stunning coastal views and charming shops but also for its incredible dining options. Whether you are a foodie looking for a culinary adventure or simply want to enjoy a delicious meal, Kalk Bay has something for everyone.
The Olympia Cafe and its delicious pastries
If you have a sweet tooth, a visit to the Olympia Cafe is a must. This local gem is famous for its mouthwatering pastries and baked goods. From flaky croissants to delectable cakes, everything is made from scratch using high-quality ingredients. Pair your pastry with a perfectly brewed cup of coffee and enjoy the cozy atmosphere of this beloved cafe.
Harbour House Restaurant and its seafood specialties
If you're craving fresh seafood, the Harbour House Restaurant is the place to go. Situated right on the water's edge, this restaurant offers breathtaking views of the harbor and serves up a variety of delectable seafood dishes. From succulent prawns to tender calamari, every bite is a taste of the ocean. The elegant setting adds to the dining experience, making it perfect for a romantic dinner or special occasion.
Live music and a vibrant atmosphere at The Brass Bell
For a dining experience that combines great food with live music and a lively atmosphere, look no further than The Brass Bell Pub. Located right on the beach, this iconic restaurant and bar offers a diverse menu featuring everything from burgers to fresh seafood. Enjoy your meal while listening to talented local musicians or taking a stroll along the beach. The Brass Bell is a favorite spot for both locals and tourists alike.
With its incredible dining scene, Kalk Bay offers a culinary experience that is sure to satisfy any palate. Whether you're indulging in sweet treats at The Olympia Cafe, savoring the flavors of the sea at Harbour House Restaurant, or enjoying live music at The Brass Bell, you're in for a treat. So, next time you find yourself in Kalk Bay, be sure to explore the vibrant dining options that this coastal gem has to offer.
Day Trips from Kalk Bay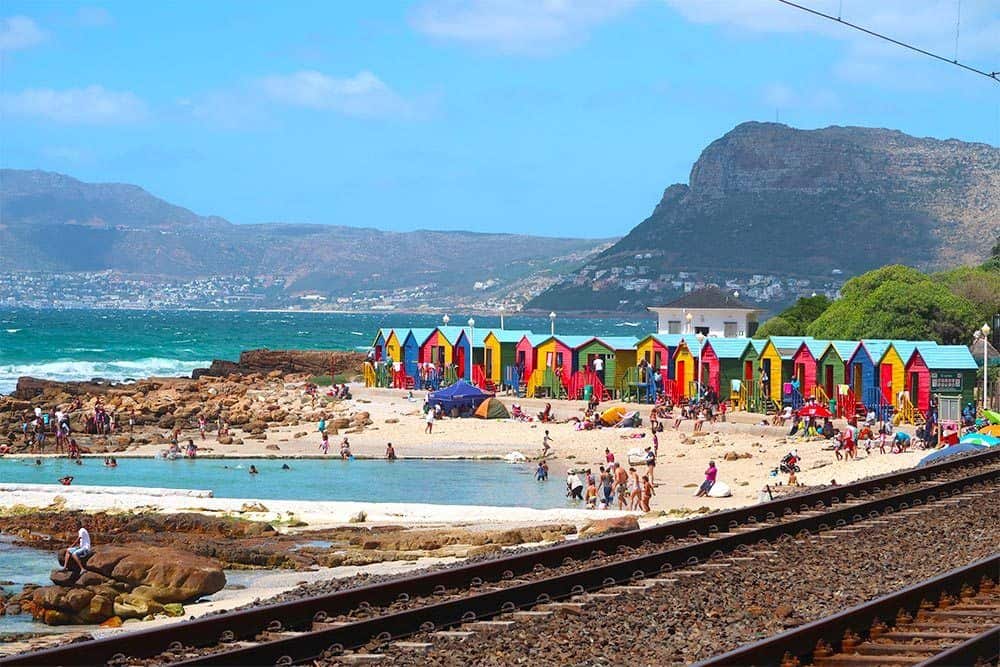 Kalk Bay is a charming coastal town located in Cape Town, South Africa. While there are plenty of things to see and do within Kalk Bay itself, it also serves as the perfect base for day trips to nearby attractions. Here are two must-visit destinations just a short drive away:
Boulders Beach and its penguin colony
Boulders Beach, located in Simon's Town, is famous for its adorable resident penguin colony. Visitors have the unique opportunity to get up close and personal with these delightful creatures in their natural habitat.
The penguins are accustomed to human presence, so you can watch them waddle around, swim in the clear waters, and even snap some memorable photos. The beach itself is also beautiful, with tranquil turquoise waters and unique granite boulders that offer scenic views.
Cape Point Nature Reserve and its breathtaking views
Cape Point Nature Reserve is a mesmerizing destination that offers stunning panoramic views of the Atlantic Ocean and the rugged coastline. Situated at the tip of the Cape Peninsula, it is home to diverse flora and fauna and boasts an extensive network of hiking trails.
Take a leisurely walk or hike up to the iconic Cape Point lighthouse for an unforgettable view. Along the way, keep an eye out for wildlife, including ostriches, baboons, and various bird species. For those seeking an adrenaline rush, the reserve also offers exciting activities such as zip-lining and mountain biking.
These day trips are not only enjoyable but also offer a chance to explore the natural wonders around Kalk Bay. Whether you decide to marvel at adorable penguins at Boulders Beach or witness the breathtaking vistas at Cape Point Nature Reserve, these experiences are sure to leave you with cherished memories of your visit to South Africa.
Accommodation options in Kalk Bay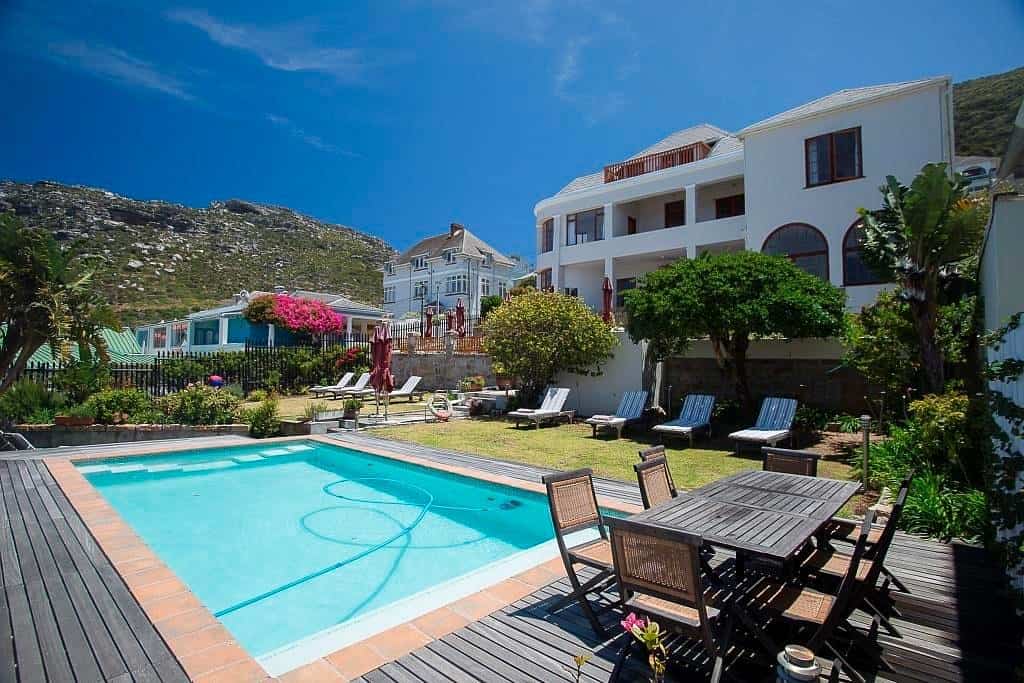 Quaint guesthouses and seaside cottages in Kalk Bay
For travelers who cherish a cozy and charming atmosphere, Kalk Bay offers a range of options that will make you feel right at home. With quaint guesthouses and seaside cottages scattered along the scenic coast, you can experience the true essence of this picturesque village.
These accommodations often boast breathtaking ocean views, cozy interiors, and personalized service. Waking up to the sound of waves crashing against the shore and enjoying a leisurely breakfast on a private patio are just some of the many pleasures to be found in these delightful accommodations.
Luxury stays and boutique hotels in the area
If you prefer a more lavish and indulgent experience, Kalk Bay also offers luxury stays and boutique hotels that are sure to exceed your expectations. These establishments pride themselves on impeccable service, world-class amenities, and stunningly designed interiors. From stylishly furnished rooms to gourmet dining experiences, every aspect of your stay will be carefully curated to ensure absolute comfort and relaxation. Some of these accommodations may even offer spa facilities or rooftop bars where you can unwind while taking in panoramic views of the ocean.
When choosing your accommodation in Kalk Bay, consider the unique features and experiences that each option offers. Whether you prefer a cozy and intimate setting or a luxurious and indulgent experience, Kalk Bay has something to suit your preferences. Whichever accommodation you choose, you'll be able to immerse yourself in the charm, beauty, and tranquility of this captivating coastal village.
Conclusion
If you are looking for a charming coastal town that offers a unique blend of history, art, and natural beauty, Kalk Bay is the perfect destination for your next adventure. With its scenic views, vibrant atmosphere, and plethora of activities to indulge in, there is something for everyone to enjoy.
Tips for planning a memorable visit
1. Explore the Harbor: Take a stroll along the picturesque Kalk Bay Harbor and watch the local fishermen unload their catch of the day. You can even sample some fresh seafood at one of the charming waterfront restaurants.
2. Visit the Kalk Bay Theatre: Catch a show at the intimate Kalk Bay Theatre, known for its unique and captivating performances. Be sure to check the schedule in advance and book your tickets early.
3. Shop at the Quirky Stores: Kalk Bay is famous for its eclectic mix of boutique stores and art galleries. Spend some time browsing through the unique shops and discovering one-of-a-kind treasures to take home.
Build your own custom tour around Kalk Bay with SouthAfricaTravel.org.
If you're looking to make the most of your time in Kalk Bay, consider booking a customized tour with SouthAfricaTravel.org. They offer a range of options to suit your interests and preferences, including guided hikes, food tours, and cultural experiences. Their expert local guides will ensure you have an unforgettable experience.
Frequently Asked Questions
What is the best time to visit Kalk Bay? The best time to visit Kalk Bay is during the summer months (November to March), when the weather is warm and sunny. However, the town is charming throughout the year, so any time can be a great time to visit.
How do I get to Kalk Bay? Kalk Bay is easily accessible by car or public transportation. If you're driving, take the M3 from Cape Town and follow the signs to Kalk Bay. Alternatively, you can take a train from Cape Town's city center to Kalk Bay station.
Is Kalk Bay safe for tourists? Kalk Bay is generally considered safe for tourists. However, as with any travel destination, it is always advisable to take precautions, such as avoiding walking alone late at night and keeping your belongings secure.
Thank you for joining us on this journey to explore the best things to do in Kalk Bay.
We hope you found our recommendations helpful and that they inspired you to visit this beautiful coastal town.
Whether it's indulging in delicious seafood, exploring the vibrant arts scene, or simply taking in the stunning views, Kalk Bay has something for everyone.
We would love to hear about your own experiences and any other hidden gems you discover in Kalk Bay.
Feel free to share your thoughts in the comments below. Until next time, happy exploring!